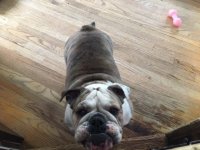 Everyone loves a girl who knows what she wants, right? Well Mona, a four-year-old English bullie, knows what she wants, so keep reading to see if you can give Mona her perfect forever home!
Mona came to SNORT after she was not getting along with the resident dogs in her home; combined with a divorce, it was time for SNORT to take Mona in and find her a perfect forever home.
Mona's main request? No other pets in her home! She has made it quite clear that she wants to be an only dog. She was regularly attacked by the other dogs in her original home so who can blame her for wanting to be an only dog! Because Mona was bullied by other dogs, she is also reactive to other dogs she meets in everyday life – on the street, in dog parks, etc. She also doesn't play nicely with cats, so a cat-free household is a must! She simply adores people, though!
Her forever home must have a fenced-in yard so that she has room to play and run and explore without encountering other dogs.
And Mona is one active girl who loves her playtime! Her favorite toys? Squeaky ones! And she doesn't even destroy them! She spent a lot of time in her crate in her previous home, so she simply can't get enough of exploring the outdoors. Mona is very energetic for a bullie, so her new home must be willing to engage in playtime – but with a sweet face like Mona's begging you to play with her, how can you deny her? Because of her desire to play and her size, she should go to a home with older children; she loves all children, but she may accidentally get too excited around younger children during playtime!

When it comes to "her" people, Mona is one big mush! It took her a few weeks to become completely comfortable in her foster home, but she is a loving, trusting dog. She lets her foster family do just about anything to her – clip her nails, give her baths, clean her tail pocket (which is deep and needs regular maintenance). She wants nothing more than to please her people! Mona is not aggressive at all around people; she has no resource or food guarding and is not protective of anything.
Her new family must be patient with Mona, though, especially during her first few weeks in a new environment. She is very sensitive and gets stressed in new situations. She will absolutely settle in, but it takes time and patience. She must be on a leash, especially in the beginning, so she can stay close to her people. But the reward of her family's patience is absolute love and adoration!
Mona has a few typical bullie issues. She has allergies and becomes itchy if not fed a limited ingredient diet; it is imperative her home continue to feed her the food she is currently being fed. She is also sensitive to grass, especially during the spring and has two interdigital cysts (typical bullie condition) that get especially irritated during allergy season if she is allowed to lick her feed. She is currently given Benadryl during flare-ups which has significantly decreased her allergies so far this spring.
She is completely housetrained and crate trained; she is crated at night as it's her "signal" that it's time to calm down and go to sleep for the night. But she loves her crate and feels very safe and secure in it and will even go in and out of it during the day.
Because Mona is so strongly attached to her human, her ideal forever home will have someone home the majority of the day. She is not a dog who can or should be left alone all day.

Mona's list of requirements for her forever home may seem lengthy, but it's really not! A pet-free home with a fenced-in yard and humans to love on her. Simple as that! If you can provide her those simple things, fill out an adoption application!

She is currently being fostered outside Poughkeepsie, N.Y. Her adoption fee is $500.
​
View attachment 80131




​
Please view the adoption process and fill out an application at their website ---> snortrescue.org
To view more available English Bulldogs from this rescue, click this link ---> S.N.O.R.T.
Please let them know you found them on English Bulldog News!
​