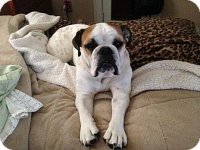 MoMo is 20 months old (born 4/1/13), neutered and mostly house-trained although he does have some accidents. He came into rescue emaciated and sick and had a severely infected tail which needed to be amputated and he is now happy and pain free. He does have some crate anxiety so he should not be alone for extended periods, in or out of a crate. It would be best if he goes to a home where somebody is with him all day or who can take him to work with them.MoMo is very high energy and LOVES to go for car rides with his bone. He's super playful and active and can tolerate extended exercise and playtime so he will need a fenced in yard so he can run around safely. He walks and jogs well on a leash.
He is still puppy but in a strong body so he can get a little rough when he plays, therefore he should be in a home with children at least 12 years old and other dogs should be of his size, energy level and play style. MoMo would love a playmate that could keep up with him. He is still learning bite inhibition so rough play should not be encouraged because he gets mouthy.
Mo loves to follow his foster mom everywhere and snuggle on the couch after he is finally played out. He has made great progress with his behavior but still tries to exude dominance at times so MoMo should be in a home with a family that will continue to work with him.
MoMo's adoption fee is $650
View attachment 80122
Update: I've been ADOPTED!
To view more available English Bulldogs from this rescue, click this link ---> Rescue Ohio English Bulldogs
Please let them know you found them on English Bulldog News!