Moderator

Community Veteran
Dec 9, 2016
5,246
659
Country

United States
Bulldog(s) Names

King Louie, Jax (French Bulldog), Ella Mae and Darla Rae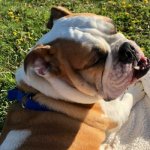 Sex: Male
Status: Ready for a Forever Home
Size: Medium (20-59)
Weight: 49 lbs
Age: 5 years, 3 months
Breed: Bulldog, English
Color: Tan / White
Microchip(s): AKC Reunite
This Dog has been spayed/neutered
My name is Maxx, I am about 5 years old and I came into the rescue when my family was moving and couldn't take me along.I had a nasty tail infection and some cavities, so my tail was removed and I had two teeth removed as well. I like to pretend I am a farm dog and ride in the Chuck Wagon or sit on the porch with my family while they do chores. I want to be around people and I really enjoy snuggling on the couch and lounging by the fire. I also LOVE to sit in chairs. If there is an empty chair, I will find it and sit on it like it's my throne! I also love to hide under the covers or lay upside down when I am relaxing. I do enjoy a quick game of fetch every now and then and love to chew on my toys. I love care rides and am a very good boy during bath time. I currently live on a farm with my foster family and get along really well with my fur sister. I also get along with the cats, goats, pigs, and chickens! So I guess you could say I am pretty good with other animals
If I know my routine, I am pretty chill, but new things can sometimes give me anxiety. My foster family doesn't know why, but I have severe anxiety/rage when I am kenneled or confined to a small space. Because of this, I usually hang out in the living room when they are gone. I am mostly good about not going potty in the house, but I will have the occasional accident if left alone too long (especially with water). I have never had an accident when my foster parents were with me. I cannot handle harsh punishments like hitting, spanking, or yelling, my foster family is very patient with me and my forever family will need to be too. I will also sometimes get grouchy and growl when I have to do something I don't want to do. I have never acted on my growls and am easily coaxed into doing what my fosters parents want me to do as soon as they give me a treat. I will do anything for treats and like to catch them in my mouth. Sometimes I will get grouchy and try to charge through the door when my foster mom leaves, but she usually throws a treat on my bed and I forgive her for having to leave me. I come when I am called, know how to sit, down, shake, and roll over, and my foster parents think I am very good at listening. If you are patient, calm, and gentle, I am the bulldog for you!
*Note*Maxx suffers from severe Kennel/confinement anxiety/rage. He can not be confined to a small space or Kennel at any time.
How To Adopt:
Please view the adoption process and fill out an application at their website ---> Kansas City Bulldog Rescue
To view more available English Bulldogs from this rescue, click this link ---> KCBR
Please let them know you found them on English Bulldog News!