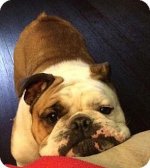 Heathcliff is very loving and energetic 3 year old bulldog. He enjoys walks, going to the park and most of all playing with his toys. His favorite game is a cross between fetch and tug of war. He loves to chase after any toy you throw, but when he brings it back he won't drop it. If you ignore him for a few he will eventually drop it; but don't ignore him too long or he will start barking to remind you its play time.
Heathcliff does get along with other dogs; however he is possessive over his toys and doesn't like other dogs to have them. He would do best in a home with other dogs as long as they are submissive or could care less to mess with his toys.
He loves to sleep in the bed with you and is a big cuddler in the mornings. He doesn't enjoy being picked up (to either get in the car or bath). Having a set of doggie stairs would be great. He also doesn't like to have his faced messed with too much. He'll let me clean his ears and eye folds but no touching his nose — he will growl and let you know he's not ok with it.
He will need to be on a grain free diet and loves scrambled eggs ("eggies") in the morning with his dry dog food. He had a few spots on hair loss on his sides, due to allergies, when he came in but they are starting to grow back now that he is on a better diet. Other than that he has no health issues. His foster home has a doggie door so he can go outside and take care of business whenever he likes. He's potty trained but has marked a few times inside. Adoption donation is: $650
All adopters must live in Ohio, or within a 2 hour driving distance of the border.
We do not adopt out to families with children under 8 years old.
View attachment 80122
How To Adopt:
Please view the adoption process and fill out an application at their website ---> rescueohioenglishbulldogs.org
To view more available English Bulldogs from this rescue, click this link ---> Rescue Ohio English Bulldogs
Please let them know you found them on English Bulldog News!