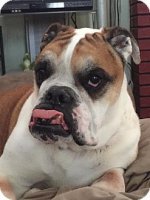 Deuce's Story...
Deuce's Story...
I am a very handsome older gentleman with a wonderful smile. I am nine years old, but my foster mom says that I act years younger. Some of my favorite things are sleeping, eating, snacking, and cuddling with my foster parents. Did I mention that I like snacking?? My favorite thing to snack on is cantaloupe. My foster family has three other dogs and three cats and I get along well with all of them; although I am a little suspicious of the black cat, I think she might be plotting evil doings. Foster mom says that I am a bit stubborn but I like to think of it as strong-willed. I'm a man that knows what I want. I want nothing more than to curl up on the sofa with my people and nap.
Like all bullies, I do have some quirks. I am obsessed with cars. Not only do I like to ride in them but if left to my own devices, I will jump on, scratch and bite a parked car. I also have a bit of anxiety with being left alone. I would prefer a home where someone is around most of the day.
I love to be outside and do well on a leash. Foster mom says that I need a little more work on my leash manners. I'm a big boy and like to do things my way. Due to my size and tendency to be bossy, I will need a home with previous bulldog experience and no young children.Being an older gentleman, I have a little stiffness in my rear end and need to be on a glucosamine supplement to help me with this issue. Did I also mention I'm not a big fan of going to the vet but frankly what dog is? Otherwise, I was given a clean bill of health and I also have a microchip.
My foster parents tell me that I am a good boy. I hear them say what a great dog I am. I am looking for a relaxing home with a great sofa to live out the rest of my days and in return I promise to give my new fur-ever family lots of love and slobbery kisses.
Adoption donation is: $200.00
All adopters must live in Ohio, or within a 2 hour driving distance of the border.
We do not adopt out to families with children under 8 years old.
View attachment 80122
How To Adopt:
Please view the adoption process and fill out an application at their website ---> rescueohioenglishbulldogs.org
To view more available English Bulldogs from this rescue, click this link ---> Rescue Ohio English Bulldogs
Please let them know you found them on English Bulldog News!