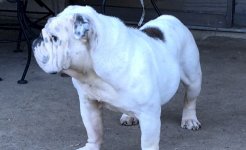 Eddie Grant has returned to Rescue. His adoptive family was having a lot of changes and turmoil and Eddie G was having a hard time adjusting to all the changes. He has gone back to his foster family and they will work to reassure him and help him adjust better to changes.
Please welcome Eddie Grant to our rescue family! At the age of 4, Eddie Grant found himself heartworm positive in a small Texas town with nowhere to go. Eddie ended up in a rescue that knew this gentle giant needed "his people." He needed Bulldog-savvy folks, like us, to get him treated and to find him an amazing family. Stay tuned for more details.
Foster boy Eddie Grant is getting his full evaluation by the vet today. He's heartworm positive so let his cute mug be a reminder to all of us: heartworm prevention is a must!
3/5/17 Update: The name is Grant… Eddie Grant. Just counting the days until I can run and play! Seven days down and 23 to go. This heartworm stuff is not fun! I have been really good and taking it easy in my crate. It's not that bad – I get all my meals brought to me, and my bedding is changed often (I sometimes have an accident). I stay in my foster parents' room, so it is pretty quiet. Foster mom says I am handsome, sweet and a really good boy and I should not have a problem finding a furever family! I can't wait for a "meet and greet."
3/19/17 Update: EG is in the house… always! I have about 8 days left of my post-heartworm treatment sentence and then hopefully I will be cleared to run, jump and play! I am so excited to play with the other dogs and hopefully meet my new furever family. I know they're out there. Foster mom took some pics of me helping foster dad with the brisket (check out my "guns"), sitting outside with my foster sister (check out my model pose) and a close-up of my sweet mug!
9/14/17 Update: Hello everybody EG checking in…I have been kicking back, taking it easy and enjoying the little cooler weather. Foster mom has been feeding me extra and giving me those yummy meatballs, but she told me I am looking good and now we can start tapering off the "extra stuff"! What does that mean??? No more extra treats, food and special meatballs??? Say it isn't so… I have been hanging out with foster bullie Laura and we talk a lot. Foster mom is happy because Laura doesn't do well with the others. Foster mom took some pics of me outside (I am the handsome one on the left) and she was sneaking some when I was sleeping. I am excited to go to my 2nd event @ Hollywood Feed this Saturday and looking forward to meeting a lot of new friends and hopefully I will meet my new furever family. See you later – EG aka Eddie Grant
9/18/17 Update: EG checking in after a fun day at Hollywood Feed. Foster dad is silly and kept saying…"this is "Grant…Eddie Grant" when someone would ask for my name. I had a great time and got to meet a lot of new bullie friends and people too! I got a lot of hugs and pets and I gave a few kisses out. Have to limit the kissing…EG kisses are special! I also got to meet some nice people that told foster mom & dad they came especially to see me! They were saying something about "Cats" and I just tilted my head, because I have no idea what a "Cat" is. Foster mom tried to explain that they are small, furry and some have long fluffy tails. Foster Bullie Laura even told me that she saw some at the vet's office and told me they are really soft. Yeah, I still don't know what they are talking about, they sound like some of my toys! I hope I get to meet one to see if I will like them. I have a good feeling that I might have met my forever family yesterday, I will keep my paws crossed. Until next time..
10/20/17 Update: Foster boy Eddie Grant had a great time at the Bulldog Bonanza at
BAR 2909 – West 7th Fort Worth
. What a cool place to hangout and we got to see a bunch of our Lone Star Bulldog Club Rescue friends. We met a lot of nice people looking to adopt a Bulldog. We are hoping I made a good impression on them so they will consider me. We are excited about Bull-O-Ween and cannot wait to go. Hope to see everyone there!
Wanna Adopt?
Please view the adoption process and fill out an application at their website ---> dfwbulldogrescue.org
To view more available English Bulldogs from this rescue, click this link ---> Lone Star
Please let them know you found them on English Bulldog News!