Moderator

Community Veteran
Dec 9, 2016
5,387
1,019
Country

United States
Bulldog(s) Names

King Louie, Jax (French Bulldog), Ella Mae and Darla Rae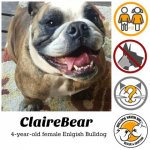 Claire Bear
She is actually very pleasant to be around and can't understand why some people think otherwise. She is empress of her foster home, a sovereign ruler of great power and rank & she is currently taking applications for a new trusted family. Her demeanor pure, amiable, quiet and yielding. But certain criteria must be met to maintain this. Please read the top 10 things that must be agreed upon before applying for this position. Items with an * (asterisks) are not negotiable but the others may be bent ever so slightly!
1. * I prefer a dog free home. I absolutely love meeting new friends human and fur and although I do not pick fights but don't back down to knuckleheads so being an only would be best. I will need a consistent well trained parents that does not relax on training.
2. I am active and love my LONG walks, runs, hikes, exuberant playtime. You must be an active family as I require daily maintenance.
3. I do love long naps. I will need a double comfy sofa, bed or lap next to my human. I am kenneled trained and will let out a little Trill of dislike when in it, but stay quietly through the night or day if needed.
4. If you show me LOVE, commitment to my stubborn ways and consistency I will be yours forever.
5. * I love chewing & I will need indestructible toys. I love fetch but need to have my balls picked up after or I'll eat them. I also get a little confused when playing and will inadvertently clip your hand when you throw balls so a watchful eye is a must. A kid free home is best or at least kids over 12.
6. I will Trill at a ball under the sofa, a treat in your pocket or at my leash when I want to go outside or a car ride. You will figure this out quickly.
7. * I do not have any health issues. I had stress these past few months so soft stools. But with consistent food, parents and housing I am fine.
8. * I have the best Wonder walker harness & my past family did not use this and struggled with my strength. I am very good with this harness & it is required for outings.
9. I love to go to work. My previous homes had stay at home moms and one that took me to the office where other dogs came. I loved this routine. I can thrive in this. I just can't go to a family that leaves me for long periods of time. A few hours maybe. But if you have a 9-5 job that leaves me alone I'm not right for you.
10. I am soft and shed very little. A regular bath, ear cleaning is good and nail trim is necessary. I do have a cork screw tail that needs cleaning on a regular basis. It's a bulldog thing.
I would be glad to have my current foster family speak to you about any questions you may have.
Wanna Adopt?
Please view the adoption process and fill out an application at their website ---> bulldoghavennw.org
To view more available English Bulldogs from this rescue, click this link ---> Bulldog Haven
Please let them know you found them on English Bulldog News!