Moderator

Community Veteran
Dec 9, 2016
5,549
1,347
Country

United States
Bulldog(s) Names

King Louie, Jax (French Bulldog), Ella Mae and Darla Rae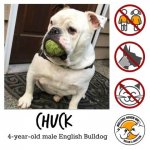 Greeting hoomans,
My name is Chuck (nicknames include Chuck-Tail.er, Chuck-Chuck or Chuckie) and I am a 4 year old English Bulldog. If you will throw my ball, cuddle, or just hang out with me, I will luv you forever. Basically, if you are a human, you are my best friend. I'm sure other dogs would be fun to be friends with but I don't want to be with them, I want to live with just my new mom & dad...and maybe older kids but not young ones. Have I mentioned my ball (or any toy) yet? I LOVE MY BALL & TOYS. I take them everywhere; on walks, the car, or in my crate. I could learn to let go of my ball when humans ask, but I guess bulldogs are stubborn? My foster mom is working on this with me though!!
I love to go on walks and taking nappys. I am crate trained, potty trained, and know all sorts of commands, even shake! I get a little itchy skin so have some medicine for that. Things that make me soooo excited (but to watch out for): toys, balls, water bottles, anything stuffed and balloons. I go puppy CRAZY so keep these away from me. And back to toys, I'm sure it'd be more fun if I'd drop them for you to throw for me but nope, not happening!! I love to hold them in my mouth and with that said, I do N*O*T let go of them (or shoes sometimes) because they are all mine so my foster family is really trying to work on drop it but so far, I don't listen to that since I don't want to share. Don't worry, I'm not mean, just don't want to let go. So my new forever home will need to make SURE that closet doors are closed, stuffed animals are all put away and not accessible to me...and if I'm playing with a toy, make sure it's a strong one!! Oh and sometimes, I turn in circles over and over and over if I'm excited...I'm silly!!
So tell me, are you my family?
Love, Chuck
Wanna Adopt?
Please view the adoption process and fill out an application at their website ---> bulldoghavennw.org
To view more available English Bulldogs from this rescue, click this link ---> Bulldog Haven
Please let them know you found them on English Bulldog News!