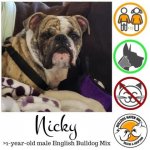 Nicky is an amazing 1 year old bulldog with non-stop energy. He can outrun your marathon practice, out-jump your parkour attempts, and win tug-of-war any day of the week! You may think "Boy, he'll tire me out" and you are right, he's not your traditional sit on the couch bulldog. Nicky wants to explore, have adventures, and snuggle with you once it's all done. Do you have another dog that is also non-stop energy? Perfect! The pair can tire each other out while you get some cool shots of their wild play for your latest TikTok videos! Nicky loves to play with other dogs - he loves to play with humans - and when I say love, I mean LOVE!
Nicky will require a fully fenced yard, continued training and reinforcement (he's still a puppy ya know), kids ages 12+ because his zoomies are real fast, and lots of love! If you think your home can be an adventure land for Nicky - apply today!


View attachment 80130
Wanna Adopt?
Please view the adoption process and fill out an application at their website ---> bulldoghavennw.org
To view more available English Bulldogs from this rescue, click this link ---> Bulldog Haven
Please let them know you found them on English Bulldog News!