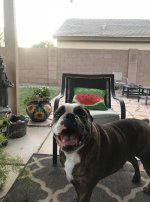 Bruce is an Olde English Bulldogge that we rescued from a Tucson shelter. He was originally surrendered to the shelter when he was 2 years old. He was adopted, and now his recent owner returned him to the shelter because he was getting deployed to another state. He is now 5 years old and is very healthy and loving.
Bruce is very good with people. We have not seen him around kids, but he seems like he would be good with them seeing how friendly he is. He is house-trained and is very compliant to being in the crate as we put him in the crate frequently the first week in foster care. He is a very clean dog and is not destructive at all. He is very obedient, responds to his name, sits for his treats and shakes for them when asked. We have a cat that lives with us and he has no problem with her, as he is friendly with her as well. He walks well on a leash, yet can get really excited and pull because he wants to go fast. He is not a drooler and has very funny expressions when you talk to him. He's a peoples' dog as he wants to be in the room with you at all times.
He does have a fairly high energy level. He loves to play with his toys and chew on his bones. This is also a dog that loves to go on car rides and will want to go in the car when he sees you open the car door.
Some of the quirks Bruce has….. We have a small dog that lives with us and he gets along with her great, but is very possessive with his toys and bones. Due to his possessiveness, Bruce would be happiest as the only dog in the home. He has anxiety during thunderstorms as he will panic and freak out by barking and pacing. We are going to try a compression shirt or other means to calm him during storm season.
We love Bruce and are very happy that we rescued him from the shelter. We want him to go to a very good forever home. Bruce has been given a clean bill of health by our vet and he's ready to go! He deserves to receive a lot of love and affection as he has very much to give!
*** BRUCE'S ADOPTION DONATION IS $450 ***


Wanna Adopt?

Please contact them on facebook ---> AHBR-facebook
To view more available English Bulldogs from this rescue, click this link ---> Almost Home
Please let them know you found them on English Bulldog News!
​

​