Moderator

Community Veteran
Dec 9, 2016
5,239
642
Country

United States
Bulldog(s) Names

King Louie, Jax (French Bulldog) and Ella Mae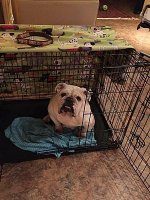 My Info
Spayed
Shots Up to Date
House-trained
Purebred
Good with Dogs
Sweet Adeline, My Adeline!
Hello, I am Adeline. I am the sweetest girl with lovely, melting brown eyes and a precious wagging tail. I just love for people to fuss over me and give me gentle pets.
I am one of the 4 bulldogs rescued by Bringing Home Benji and brought to Chicago English Bulldog Rescue after being freed from a puppy mill. I am 7 years old and was used as a breeding mama dog until I was too old to be of value. I have probably had a litter of puppies every six months since I first came into heat, it is hard to remember but I know I was kept in a cage and my puppies were taken away as soon as they could be sold. My life has been so sad.
But I am ready for my new life! I am settling into my foster home very nicely and learning new things every day. I still get nervous when faced with new experiences but am learning really quickly. I have mastered the stairs and have decided that laying on a bed is so much better than a hard crate floor, although I still retreat to my crate when I am nervous. I love to eat and will sit up and beg for treats. I has learned that laying on the sofa with my foster dad is awesome and he has been letting me sleep with him every night. I am interested in toys but just take them back to my space so I can have them close to me. And I so happy to be able to go potty outside and give a good signal when I need to go. It is so nice to be clean.
My foster mom says I am a very gentle, very sweet girl who just wants to be loved and I am pretty healthy! I am living with two other bulldogs and we mostly ignore each other although I don't want them to come into my space.
My perfect family is one who will continue to help me learn and adjust to being a dog out of a cage. They will give me lots of gentle attention and pets and soft beds. They will be patient as I learn to walk on a leash and begin to explore more of the world. They will ensure I am on a high quality diet to help me lose some weight and get into shape. I promise to be your dear heart and give you my love and loyalty forever.
Please let me be the flower of your heart,
Adeline
Placement Criterion for Adeline:
Willingness to continue her adjustment from the puppy mill, including learning to walk on a leash.
Okay as only dog but could live with another calm dog who honors her space.
High quality diet and supportive supplements.
If you would like to donate to Adeline's care, please go to our website at
General Donation | Chicago English Bulldog Rescue - eBully Boutique
.
HOW TO QUALIFY FOR A CEBR BULLY
To determine if you qualify to adopt one of our adorable bullies start by viewing our Adoption Area Map. If you fall within the boundaries and are interested in our bullies the first step is to complete an application by visiting
Online Home of Chicago English Bulldog Rescue
HOW TO ADOPT:
Please view the adoption process and fill out an application at their website ---> ebullymatch.com
To view more available English Bulldogs from this rescue, click this link ---> Chicago English Bulldog Rescue
Please let them know you found them on English Bulldog News!