Moderator

Jan 8, 2013
2,869
198
Country

Sweden
Bulldog(s) Names

Boeboe, Bennie Boy and Joey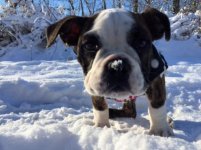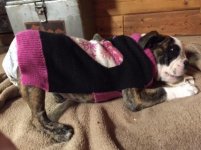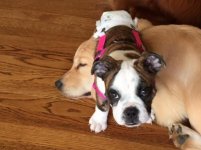 Spayed/Neutered • Special needs • Current on vaccinations • Prefers a home without: Dogs and Cats • Primary Color(s): Brindle • Secondary Color(s): White or Cream • Coat Length: Short
ABOUT WILLOW
This little cuddle bug was born in September of 2015. With a diagnosis of Spina Bifida and malformed back legs, you would think this was a sad story. But it's not! Willow is happy and healthy. She doesn't know there is anything wrong and plays with the big kids and even attends daycare.
This beautiful girl lives in a foster home with dogs, cats, and even horses. She gets along with all of them and often shares her bed with her foster brother and Mr Kitty. She loves to play and wrestle with her foster brother Cygnus. Tug is her favorite game and she enjoys chewing on bones. But cuddling is her favorite thing to do. Cuddling with Cygnus is good, but she mostly loves to cuddle with Foster Mom or Dad.
Willow is content to sleep at night on a soft dog bed on the floor in your bedroom but she really loves to cuddle in bed, right in between Foster Mom and Dad. While she does love to be with her people, she is a good girl when left alone. As long as there is a soft bed and a bone to chew on, she is content.
She does need to wear a diaper and will need to throughout her life. Foster Mom is teaching her to stand still and touch her nose to a target during diaper changes. She thinks this is a game and loves to play it....and has made diaper changes easy-peasy. Foster Mom bought a Diaper Genie to help keep the diaper smell under control and this will go to Willow's forever home.
Willow is mobile and can even run. She relies on her front legs to do a lot of the work. In time, she may need to have some wheels to help her get around, but for now, she is doing great without them. In spite of her rear leg issues, she is able to keep up with her friends and plays.
If you are looking for a girl that you can bond with, cuddle with, and care for, Willow is your girl. Don't be afraid of her condition. Diaper changes are easy when a girl is trained to stand still. And whether its using her front legs to get around or a set of wheels, she will be an active and mobile girl. Don't feel sorry for Miss Willow. She doesn't need that. She needs someone to share all of her sass, love, and cuddles with.
Are you that someone?
If you are interested in Willow , please visit our website:
HOME PAGE
, and read through our adoption criteria to see if you meet our requirements. If you do, please fill out an application to adopt.
Willow's adoption fee is: $350
Visit us on Facebook:
https://www.facebook.com/IllinoisEnglishBulldogRescue
Update: I've been ADOPTED!
To view more available English Bulldogs from this rescue, click this link ---> Illinois English Bulldog Rescue
Please let them know you found them on English Bulldog News!