Moderator

Community Veteran
Dec 9, 2016
5,287
754
Country

United States
Bulldog(s) Names

King Louie, Jax (French Bulldog), Ella Mae and Darla Rae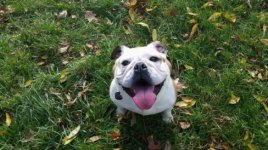 10/18/16: Please welcome Sophie Grace! Sophie's owners had taken in a few extra dogs recently and Sophie Grace has started to act out. They thought it would be best for her to move into new home with less stress and less dogs. She is already spayed but not up to date on her vaccinations and has a skin infection. Thank you Tammy and Kelly for getting her to Georgia and to our vet. Will get her vaccinated and on medication to treat her skin infection and she will move into her foster home tomorrow. She will be ready for adoption once we get her skin infection cleared up.
She is four years old. Up until recently she has enjoyed other dogs, we are eager to see how she does in a new environment. She is good with young children but we do not know how she feels about cats.
Update 1/1/17: Sophie Grace is doing great in her foster home with her older fur foster brother and two year old skin foster sister although she does love to the center of attention. She is does have a way to go on her fear issues. She seems to get uncomfortable when there is change or things are out of place. We are trying some calming supplements to see if this helps her feel better. She loves to play with balls and with her plastic pool (with out without water).
Update 1/15/17: Sophie Grace seems to be a tad skittish and does not love change around the house. We just started her on natural calming supplements to see if they give her some relief with her anxiety.
Update 6/15/18: Sophie Grace is looking for a forever home!
approximate age: 5
approximate weight: 50
likes dogs: yes
likes cats: n/a
likes
children: yes
food: Taste of the Wild, Pacific Stream
life long medications: joint supplements
HOW TO ADOPT:
Please view the adoption process and fill out an application at their website---> georgiaenglishbulldogrescue.org
To view more available English Bulldogs from this rescue, click this link ---> Georgia English Bulldog Rescue
Please let them know you found them on English Bulldog News!