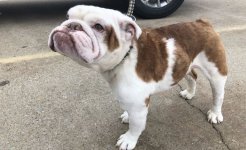 Peter Pan was the boy who never grew up. Now rescue has our very own Peter Pan.
Peter is 3 years old and weighs only 32 pounds. He is a tiny, full-grown Bulldog. He reminds most people of a puppy, but he is fully mature and acts like a grown dog. So he is kind of the best of both worlds. He was found and surrendered to a shelter, so we know nothing of his background. His head seems a little large for his tiny body and his back hips swing out a bit when he stands or walks. His skin is dry and he needs to be neutered. He also needs to gain a little weight, but he should never be over 40 pounds. He has the most mesmerizing eyes and the prettiest red tint to his fur.
He is at the clinic for a few days to get everything checked out. If you want a dog that looks like he never grew up, Peter Pan may be the pup for you!
6/29/18 Update: Peter Pan here. Yes, you read right. It's me again. I am back in foster care and looking for a special family to call my own. I'm a little fellow that can be carried around, but my ego can't be contained. I am learning to be a part of a pack currently. I still have my moments from time to time. My foster pops has started calling me Mugsy. If you take a look at my sweet face, you will understand why. I seem to be mean mugging everything. I currently need attention throughout the week for my tail pocket and face folds. I am patient when you clean both and love cuddle time. My foster mom is even trying to get me to do yoga ��Please share my story if you think you can help me find my furever home.
Wanna Adopt?
Please view the adoption process and fill out an application at their website ---> dfwbulldogrescue.org
To view more available English Bulldogs from this rescue, click this link ---> Lone Star
Please let them know you found them on English Bulldog News!