Moderator

Community Veteran
Dec 9, 2016
5,472
1,189
Country

United States
Bulldog(s) Names

King Louie, Jax (French Bulldog), Ella Mae and Darla Rae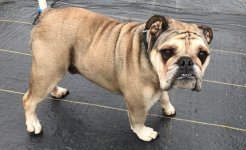 Age: 7 Yrs. Old
Gender: Male
Special Needs: No
Tolerant of children
Tolerant of dogs
Tolerant of cats
Kingman
Hey friends it me, Kingman checking in today. Today was the day I knew was going to come sooner or later. I have been around this place called a garden center half my life just wandering around, picking flowers, and taking selfies! I am a huge fan of selfies. Every time I came my Dad would sit down and talk to Dianne so she would know everything about me, what I liked, loved, and what I was used to. Let's just say I like to eat, I love treats, and I am used to vet visits, having my wrinkles cleaned, and a Sunday bath is a must. I like to walk, but I love car rides. I like dog food, but I love steak to. I have a ramp I go up and down, and a suitcase filled with my things and a bag of food that is my favorite. My Dad packed everything, wrote lots of notes, sent some baby pictures, found my puppy shot records and he even did a Coat Color DNA Test to see just how I got to be this fabulous. Well today my Dad brought me again and this time I got to stay. My Dad cried big tears, and so did I. Sometimes life takes a wrong turn and changes have to take place and we have to adjust. I am going to find a new family now that will love me like my Dad did. And wow did my Dad love me.
4/15/18 Update: This has got to be one of the softest and sweetest Bulldogs I have ever met! He has a gorgeous coat with eyes that will suck you right in. He is 7 years old and acts like he is 4. We picked up Kingman from Puckett's and had not gotten back to 75 when we had to pull over. Kingman was trying to get in the back of our Tahoe from the backseat. He wanted something that was back there! Well, I opened his HUGE duffel bag of all things Kingman, and handed him his stuffed raccoon and he was beaming from ear to ear! He sucked on his baby all the way home and was so proud to show it to us over and over again. Such a sweet boy!
When we got home, he went to his "holding area" with Trudy to settle in, but he did not want anything to do with decompressing! He pranced out, checked out the whole house and all the other dogs, chased poor Dixie the cat and settled in on the couch with his raccoon, once he had shown it to everyone. He walks like a champion and loves to go outside. He adores Brian and follows him everywhere he goes, just like our Callie does. Two little shadows, one on each side! Lucky man!
Kingman eats great (he is allergic to chicken!) and has awesome manners. He sits on command and knows the word "no" (which he got to hear as he was marking the pool table legs!). He loves to drink water and is a bit on the messy side here! He is housebroken (except for the few marking incidents, which is a given in our male-dominated house), but given his liking of water, we shall see how he does while we are at work all day. When I left him this morning, he was sitting on the couch with Boomer and Callie, leaning over the arm and staring out at the backyard daydreaming. I got my first kiss from him this morning and I was so thrilled! He is a precious, special boy with a love of life, people, and most other furries (cats are for chasing!). His smile will melt your heart! I expect that an applicant will be matched to him soon, so I will enjoy him while I can!
4/29/18 Update: Hi! My name is Kingman and I would like to share a few things about myself:
1.) I LOVE MEN! This is first and foremost! Now don't get me wrong, foster mom is ok and all, but I LOVE my foster dad and make it my business to shadow him at all times! I take this job seriously! I walk with him, sit with him and hang with him. He is my FAV! When he leaves, I sit on my couch by the door and stare outside until I hear his truck leave. Then I nap until he returns, 'cos that makes me SO VERY HAPPY!
2.) I LOVE FOOD! I like to eat and make up all sorts of silly dances when I see my food bowl coming towards me. I know to RUN and DANCE down the hallway to eat in my room. I have my own special eating room as I eat really fast and try to help others clean their bowls so we can proceed to TREAT TIME! They don't like my help, so I get my own space. Kinda cool!
3.) I LOVE TREATS! Yes I do!!! My face can be found next to the treat no matter whose mouth it is intended for! I am learning to take my treat nicely as I tend to get really excited and CHOMP at it. Foster dad says digits can be lost this way! Whatever that means……I just want my TREAT!
4.) I LOVE MY STUFFIES! I have lots of stuffed animals here at the foster camp, but I LOVE my ROCKY RACCOON the most, because my real dad gave it to me. I carry it everywhere, even for walks! And yes, I can do my business while holding it in my mouth! J I am really talented! I like to suck on it all day and all night…….until foster mom takes it away for a cleaning. Then I resort to my moose or my green tug toy (that my real dad game me also!). I patiently wait until Rocky is clean and I get him back again! YAY!!!
5.) I KNOW WHERE TO DO MY BUSINESS! Yes, I am housebroken. That's not to say that I have not had a few accidents in the house, but hey, foster dad and mom work a lot and sometimes a little guy just can't hold it that long! But I do my best! I would really LOVE if I had someone home all day with me! Then I could go out a lot more often and be a PERFECT boy, 'cos that's what I like to be.
6.) All THE OTHER STUFF! I am good with other dogs and don't cause any trouble. Foster sister Callie taught me to chase the cat and that is FUN! Foster mom says no it is not, but I think she should try it! Then she would know! I am allergic to chicken, so I don't get nibbles at foster parent dinner time and that bums me out, but I do get other yummy things that I can eat, so I am happy. I can catch treats and I can sit like a good boy! Foster mom says I am super soft and have the most beautiful eyes she has ever seen! Ok, I will go with that! I am pretty handsome if I do say so myself! J I am 7 years old, so I do get supplements for my joints, but that is all. I am healthy and muscular! I am such a catch!
So……..that's a quick recap of ME! I really want a home with a guy who get me……..mom's are ok, but just to take care of essentials like feeding, etc…..I want and need a new DAD who wants to play with me and hang with me and let me be with him at all times. A retired or work from home dad would be awesome! If you would like to meet me, just fill out your application and I will be waiting patiently on my green couch for YOU! Love, Kingman
6/14/18 Update: The origin of Kingman's name means "servant to the king" and this sweet little guy does his very best to live up to his name! He is loyal and loving and truly just wants to spend all his time with the "king" of the house, his foster dad! He is content just to be in the same room with him. If foster dad is outside, Kingman is at the door waiting. He is just a precious baby who loves his dad! He has actually come around to my presence also (finally!). LOL! He didn't know what to do with me at first……all the kissing and hugging and loving……but now he actually comes to me for it! I think it's because I bribed him with new stuffies (his babies) – the second way to his heart besides being a man! Feeding helps too! He still eats in his own room to avoid "butting into other's food" conflicts, but he is doing great with treats and only occasionally gets too aggressive. We think he is doing AWESOME learning to live with other dogs! He and our Callie are best buds. He is an amazing little dog who is simply gorgeous! Our pics do not do him justice…..you have to see him in person! His coloring is just beautiful! Just as beautiful as his heart. He is sweet and loving and funny. He does need eye drops to keep his eyes moist and his little corners from poking out. His hair is coming in on his side and he looking great! His ideal home would be with a retired gentleman he could hang out with all day. He is good with our cat and the absolute messiest water drinking we have ever seen! LOL! I can't imagine anyone NOT falling in love with this guy. I know we have.
Wanna Adopt?
Please view the adoption process and fill out an application at their website ---> dfwbulldogrescue.org
To view more available English Bulldogs from this rescue, click this link ---> Lone Star
Please let them know you found them on English Bulldog News!