Moderator

Community Veteran
Dec 9, 2016
5,548
1,344
Country

United States
Bulldog(s) Names

King Louie, Jax (French Bulldog), Ella Mae and Darla Rae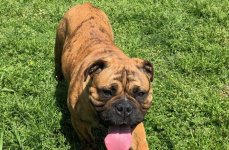 Age: 7 Months
Gender: Male
Special Needs: No
Tolerant of children
Tolerant of dogs
Tolerant of cats
Huckleberry
At 7 months old, Huckleberry had heard there was a transport for him and he was leaving his past life behind. He was packed and ready to roll when they arrived. Huckleberry had never worn a collar and certainly did not know what a leash was for so he bucked like a bronco when it was time to walk. However, when Huck saw there were 2 other bulldogs in the bulldog mobile he was more than eager to load up and start the game of rumble in the back seat. Huck traveled many hours to get here. Some times he slept, sometime he wanted to help drive, and sometime he played with his new found friends. When Huck arrived at his safe house before transport he was bathed, had many ticks picked off him, and had a great meal. Huckleberry's life began on Thursday and he was one of the lucky ones that now will be someone's everything—not just another bulldog among many. Much thanks to Traci and Darren who made the trip north again to bring back a precious bulldog named Huckleberry.
Wanna Adopt?
Please view the adoption process and fill out an application at their website ---> dfwbulldogrescue.org
To view more available English Bulldogs from this rescue, click this link ---> Lone Star
Please let them know you found them on English Bulldog News!