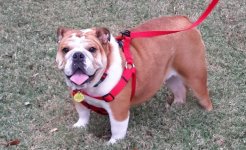 She was sold at a puppy mill auction in the Midwest wearing a tag that identified her as Bulldog #238. Eve is one of the lucky ones that was placed on the table, lifted high in the air and advertised as being "Bred Before Sale" and was bought by Lone Star Dog Ranch where she will never be bred again in her life. The bidding was fierce for Eve because she just turned 1 year old in September, but being sold to another mill was not going to happen on Saturday for Eve. Eve was going to be set free from a life of living in a wire cage and birthing litter after litter from a puppy mill that is known to be one of the worst in the United States. As expected, Eve trembles when she sits, avoids eye contact, refuses to take a step on her own, and will dart and hide every chance she gets. But today is the first day of freedom for Eve, where she was known as Bulldog #238, a number that identified her, but did not define her. Much thanks and appreciation the Lone Star Dog Ranch for setting French Bulldogs, A Schnauzer. A Dogue de Bordeaux, and 3 Bulldogs free that day, and for sharing with us.
11/12/17 Update: Eve had her first bath after having her spay stitches out. She is so soft and beautiful! Eve wanted red for her collar, harness and leash and she is a gorgeous lady in red. She walked on her leash, following her fur sister. She was ready to get back inside her house though, in typical mill mama fashion. Eve's eyes are shining bright nowadays!
Wanna Adopt?
Please view the adoption process and fill out an application at their website ---> dfwbulldogrescue.org
To view more available English Bulldogs from this rescue, click this link ---> Lone Star
Please let them know you found them on English Bulldog News!