Aug 15, 2015
349
24
Country

Usa
Bulldog(s) Names

Murphy Hudson Nash & Milton Virgil
Hi everyone.
Worried mom right about now.
Murphy had his last ( hopefully) cherry eye surgery on Tuesday.
Went great and it looks like it won't be back

She did the tuck underneath but way lower than usual and closer to his nose.
I didn't want to take any chances of it coming up back right after surgery so he has had his cone on since then, 5 days. And was going to keep it on until his first check up on Thursday
With lots of scratched and rubs around that area of course
My husband kept saying that he had a funky smell in his facial region so I cleaned and cleaned, even the neck area.
Got it all dry and it was better.
& ive also been giving him water through a huge syringe- didn't want the cone off.
He loves it
Thinks it's a game.
A little would drop on the cone and I would wipe it down immedeitly after every drink
I swear I think he drinks more water from that than on his own.
I am getting to a point

trust me
Want to get all my facts out there :D
So I went to give him a bath last night and I noticed a pink spot on his neck
Almost like it was raw from the cone.
So I cleaned every inch of him and got him dry
Well that one spot just would not dry for the life of me
And it clicked that we may have a hot spot on our hands
And it's huge!!!
So I dried and cleaned with witch hazel and this anti fungal before I put him to bed
Trust me I had the clippers out after reading for about 2 hours
So I tested it out and he wasn't scared of it
There was just no staying still so I didn't chance it
And I know I need to keep it dry
So the cone went back on for bedtime just in case he decided to scratch
Which I don't think he can move his leg that high haha
Got up this morning
And looked, the entire area was a green ( I'm assuming pus) and dripping from the ends of his hair
Cleaned it up, called the vet, now waiting to hear back around 8. And hopefully with our actual vet.
So thoughts? Any are appreciated.
Is it because the water dripping down??
I know we all say we take good care of our bullies and don't expect these things to happen but
!!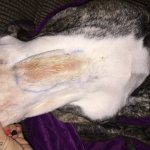 I was told to outline the area to see if it spreads-I did it lightly so it will wash off