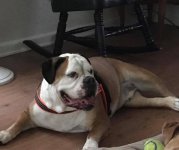 Hellllo Iebr family and friends ! My name is Dakota , and I'm a 7 yo Olde English Bulldog.
I came into the IEBR program with my English brother Mugsy, and although I lived with Mugsy for almost my entire life so far ( and a cat) , I prefer to be an "only" now.
See, I lost my Mom - she had to leave me forever and I loved her so much but she's in Heaven now , and then my Dad got really sick and had to go to a place where people
Had to take care of him.
My skin sissie who lived really far away hired someone to come to our house a few times a day, feed us, walk us, take care of us ,
But eventually realized we needed another family.
I decided with all the changes that I really need all my new peoples attention and don't want to share it anymore with a dog or a cat or anything with 4 legs. I've suffered a lot of loss and Need all the peoples attn on me, at least for now.
I'm a super good boy, listen well, love
You with my eyes , likes to play , prefers sleeping in the big bed when it's time to go to sleep, house trained , Potty trained, I know basic commands and will give you a high five !
If You love us kids that are a bit bigger , And can allow me to be the only fur baby in
Our home , I promise to give you all the love and adoration you can handle tenfold, then I'm the guy for you ( just FYI, I am
Not the type to charge or go after another dog when on a walk or out in public, I just don't want to live with another ).
I'm ready to read my aps, have you gotten yours in yet??
If you are interested in Dakota, please visit our website:
Illinois English Bulldog Rescue
, and read through our adoption criteria to see if you meet our requirements. If you do, please fill out an application to adopt.
Dakota's adoption fee is: $550
HOW TO ADOPT:
Please view the adoption process and fill out an application at their website ---> ilenglishbulldogrescue.org
To view more available English Bulldogs from this rescue, click this link ---> Illinois English Bulldog Rescue
Please let them know you found them on English Bulldog News!