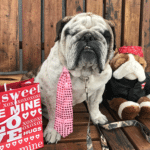 Please welcome Clay Walker to our Lone Star Bulldog Club Rescue family. No, not the famous country artist… better than that: Clay Walker, the most beautiful brindle Bulldog! Clay's dad, Justin, had one job to do and that was to find Clay a family that would love and take care of him forever. Clay's first family was getting older and they did not feel like they could take care of him any longer. So, Justin took Clay Walker and vowed to find him a new family. That job proved to be more than Justin anticipated and he reached out to our rescue to get help for his little Bulldog buddy.
Clay came with no vet records. He needs to be neutered and has some growths on his rear end that, to some, might be unsightly. But vet care and time should fix all that. If not, Clay can wear a snap-button western shirt or a Clay Walker concert T-shirt. Three-year-old Clay has been raised with other dogs, loves kids and is as sweet as can be. From volunteer Dianne: "When I first met Clay Walker, I thought, 'This is one dirty Bulldog,' but I was wrong. Clay Walker has the most unique coloring. I would describe it as brindle with ticking, and his undercoat looks muddy. Clay Walker is absolutely stunning. The song Hypnotize The Moon by the other Clay Walker must have been written just for our new rescue boy. It describes him to a T!"
3/4/18 Update: When you first look at this sweet Bulldog, you cant help but notice his beautiful coloring. His spots are muted and they dont necessarily stand out and it seems he has a "covering" of black hair all over it, giving him an unusal look-like soot. Clay is healing from having benign growths removed from his back, primarily from his lower back. On the agenda for him is to continue to heal from the removals and to fatten him up a little more. Unfortunately, he is heartworm positive, so he will be going through that treatment pretty soon. Clay's personality is easy going and very loving. So far so good on him getting along with all his foster sister and brothers and is also house and crate trained. He is very happy and definitely has some playful spunk in him. We look forward to watching Clay continue to open up and show us more about himself.
3/27/18 Update: Clay is doing fantastic! He is putting on much needed weight with the help of good food and of course, satin balls. Ive never seen a bulldog turn one down! He is 3 years old and just as lovely as can be. His house training is going very well with just a couple of accidents that was really foster moms fault cause I forgot to let him out before bedtime. Clay loves everyone in the home, two-legged and four. He has even begun to play with his foster brother which is such fun to see.
In about 2 more weeks, Clay will have his heart worm treatment and be on 30 days of rest to get rid of those nasty worms and to get on with finding his forever home.

​
Wanna Adopt?

Please view the adoption process and fill out an application at their website ---> dfwbulldogrescue.org
To view more available English Bulldogs from this rescue, click this link ---> Lone Star
Please let them know you found them on English Bulldog News!
​