Moderator

Community Veteran
Dec 9, 2016
5,390
1,023
Country

United States
Bulldog(s) Names

King Louie, Jax (French Bulldog), Ella Mae and Darla Rae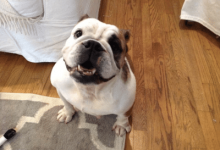 Intake Date: 10-31-18
Last Update: 11/29/18
Date Available: 12/3/18
Accepting Applications until:
Age: 5 years old
DOB: unknown
Gender: female
Weight: 53 lbs
Energy Level: low to moderate
Color & Markings: brown and white
Good with other dogs: yes
Good with cats: yes
Good with kids: BBR Policy states no children under the age of 8+.
Object aggression: none...will playfully attack vacuum
Special Needs: Pumpkin has a condition called dry eye in her left eye. This is a condition in which the eye is not producing enough of its natural tears to lubricate the eye.
Medications: Application of 2 ointments (Optimmune, and Optixcare) to left eye
Crate Trained: yes
House Trained: yes
Physical Fence Required: I have a fenced yard and go outside with Pumpkin as a precaution. I am uncertain what she would do without a fence.
Adoption donation: $500
My Ideal Home:
Pumpkin is the most adorable and sweet bulldog. Yet, for Pumpkin, her crate is her safe house. If anything frightens her, she will seek refuge in the crate.
Sweetness....Did I mention how sweet Pumpkin is? She doesn't show an ounce of aggression toward cats, dogs, deer...etc....etc....Yet, wait until the dreaded vacuum comes out and she must defend the world against the evil carpet monster!
Walking....Walking Pumpkin is a fairly easy stroll. Se doesn't get distracted by other dogs and is happy to sniff along. If she finds a scent of something very interesting, you must stop and wait until she is prepared to move forward. She will piddle on walks, but prefers a little privacy and to roam free in my backyard to take care of serious business.
Accidents....Pumpkin is primarily going potty outside. In the several weeks I have had her, she has had a few accidents.
Food....Pumpkin LOVES food! She will get so excited at mealtime that her tail wags so hard that her whole body has to participate in the dance. Because of her healthy appetite, I have had to slow her eating by scattering her food on the floor or using a maze bowl.
Stairs.....Pumpkin has mustered the nerve to attempt as many as four steps. The thought of attempting all the steps to get to the second floor is still a little too daunting. Maybe someday...
Summary....So if you would like to add a lot of love and laughter into your home...Pumpkin is the perfect match for you!
Wanna Adopt?
Please view the adoption process and fill out an application at their website ---> buckeyebulldogrescue.org
To view more available English Bulldogs from this rescue, click this link ---> Buckeye Bulldog Rescue
Please let them know you found them on English Bulldog News!