Good evening all.
It's that time of year again...
Lola's allergies.
Over the past week her tear stains and scratching have started again.
We are controlling the tear stains and scratching (just about)
But I came home from work today and saw her nose rope looking sore..
We changed her diet about 2/3 weeks ago to an hypo-allergenic diet.
(Wainwright's)
Just wondered if anyone has any idea what's going on with my beautiful bullie.
We clean her face twice a day. All her wrinkles and around her eyes.
She had an issue with her ears just over a month ago
but that has almost disappeared.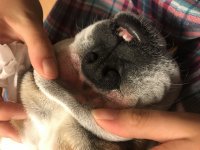 Thank you in advance.
Tom & Lola.