Apr 18, 2016
1,628
34
Country

Belarus
Bulldog(s) Names

Tank
Today we went for a walk with our friends and their bulldog Charlie. He is the sweetest dog, big friendly boy with white face and tiny tail. He is Tanks buddy and we go for a walk in a nearby Line Creek area.
We had a nice walk, because it's so lovely to see two bullies together, but imagine our joy when we met 2 Frenchies?!! We shrieked like schoolgirls of happiness!
S, I decided to share with you. enjoy!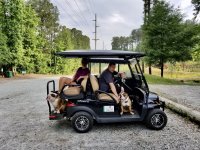 This is our Pupsie-mobile! (blurred face of my friend, because didn't ask her permission to share her photo)