Owner/Administrator

Staff member
Community Veteran
Jan 28, 2010
24,756
1,245
Country

USA
Bulldog(s) Names

The Home of the Desert Sky Pack
BIO: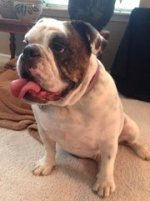 Margy is a very lovable yount bullie girl. She is sweet to her humans and her foster family is seeing more and more of her personality emerge on a daily basis.
Margy is easily frightened by lound noises and the picking up of unexpected objects, but it is relatively easy to calm her down with reassurance and petting. She does take a daily dose of anxiety medication to help assist with the uneasiness.
Margy loves playing fetch, often for an hour or two straight. She travels well and has handled being in different environments fine as long as she is given time to adjust.
Margy will be best served in a quiet, friendly environment as an only dog. Her foster family believes she will continue to improve and make progress with her anxiety issues, but it is definitely still a work in progress.
HOW TO ADOPT:
Please view the adoption process and fill out an application at their website ---> indianabulldogrescue.com
To view more available English Bulldogs from this rescue, click this link ---> Indiana Bulldog Rescue
Please let them know you found them on English Bulldog News!