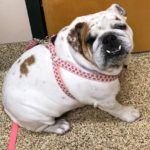 4/19/19: Please welcome Izzy! She joins us from Columbia County Animal Control. She had been picked up by animal control as a stray a few times, and this last time her owner decided not to go pick her up. She needs to vaccinated and spayed. We are treating her for an ear infection as well and some allergy issues. She has been diagnosed with dry eye and will need prescription eye drops for life.
4/25/19: Izzy had her surgery today and all went well. We will continue to treat her ear infection. We also started her on arthritis medication and joint supplements.
6/5/19: Izzy saw the orthopedic specialist and the dermatologist today for consultations. The orthopedic specialist said she does have a mild luxating paleta, but he is not recommending surgery since it does not bother her and is managed by medication. The dermatologist said her ears and skin are looking good but she will need a few maintenance things; apoquel for allergy issues and posatex to be used in her nose rope and face folds to keep infections away.
approximate age: 5
approximate weight: 53
likes dogs: yes
likes cats: n/a
likes kids: yes
food: Taste Of The Wild, Pacific Stream
lifelong medications: Apoquel, Posatex, Tacrolimus .05%, Carpofin, Joint Supplements


Please view the adoption process and fill out an application at their website---> georgiaenglishbulldogrescue.org
To view more available English Bulldogs from this rescue, click this link ---> Georgia English Bulldog Rescue
Please let them know you found them on English Bulldog News!
​

​