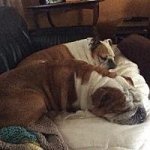 HONEY AND CHARLIE ARE A BONDED PAIR
Our names are Honey and Charlie. We are a beautiful pair of bulldogs who are brother and sister, and have been together our whole life. We want to to stay together when we find our forever home. We are 5 1/2 years old and have been with our foster for 6 months now. It has taken time to figure out some allergies and health issues, but we are feeling and looking so much better. Our foster mom compares looking after us, to maintaining a pool....if you take care of the little things, you won't have big issues.
It didn't take us long to adapt to retirement. We love people and other animals. We enjoyed hanging out on the porch, listening to the sounds and watching neighbourhood activity, short walks, gardening and going for drives in the truck. "Charlie loves short runs in a fenced area. I have to keep my eye on my brother, because he likes to go. Sometimes he tries to eat plants and things he shouldn't, but he is a great little guy. He loves toys, food and relaxing, especially in the kitchen while our foster mom cooks😉. He loves exploring the neighbourhood for hydro poles and just hanging out. His paws need care, but it doesn't slow him down. He adapts easily to new things. I, on the other, need time and attention to adapt to new situations. I had difficulty finding my place at my foster home and it took me awhile to settle in. I get stressed in uncertain situations and may react inappropriately, but I am so much more comfortable now. I love to be pampered and get attention from my human. My brother and I love each other, but as with most siblings, we have occasional spats. But we always snuggle up at bedtime. I am dominant with Charlie. I act like his mother sometimes....like keeping him away from the road when we walk, by taking the outside track. Occasionally I tease him by taking his toy, and once in awhile he takes a stand. We work it out, sometimes with foster intervention, but like I said, we never go to bed mad. I have some allergies which make my skin itchy. I made need allergy meds forever because it wasn't dealt with soon enough. We have experienced yeasty paws, but things are pretty good now. We love probiotic yogurt and pure pumpkin and it has been good for us. We are cooperative for showers and nail trims, even though we don't love it.
We may be twice the work, but we will give you twice as much 💕. So if you are looking for two great companions with lots of love to give, we are the pair for you. Just ask our foster mom....she loves us!"
Honey and Charlie.
Honey and Charlie are being fostered in smith Falls
Kids over the age of 12 please
Wanna Adopt?
Please view the adoption process and fill out an application at their website ---> homewardboundrescue.ca
To view more available English Bulldogs from this rescue, click this link ---> Homeward Bound
Please let them know you found them on English Bulldog News!