Sep 6, 2015
8
0
Country

USA
Bulldog(s) Names

Henry & Marty

I'm here hoping someone is familiar with some skin issues my bully has been experiencing and can possibly guide me in the right direction.
I know bulldogs generally have a lot of skin problems but I am so stumped and frustrated and feeling super guilty about this one. I have two bulldogs, one has regular allergies that we're working towards helping him feel better but my other 17 month old bully has recurring ulcerations that I need some insight on!
We got him at 3 months of age, had a little wart (or something) on his anus that eventually went away on its own but otherwise healthy little guy. About 2 months later we noticed on the back of his neck, on a roll ( but not in the fold), a dollar coin sized hard, fixed lump. The lump did not seem to bother him but then the hair follicles on the lump became inflammed, small patches of about 5 hairs would clump off held together by a scab, until eventually the entire lump was bald, the area then began to ulcerate and weep a foul smelling serous drainage. This was the first time we took him in for this, after a skin scrap and needle aspiration, the vet prescribed something which cleared it up, I don't remember what she diagnosed it as. Since then, we have taken him in to see the same vet and her partner at least 6 more times (mind you, we've only had him home with us for 15 months). He has been on doxycycline, cefpodoxime, prednisone and a de-wormer as a single and combination treatment. The Cefpodoxime and prednisone always clear the areas up. Recently, I became so upset, bawling at the office to the vet and she finally agreed to take a culture, the culture came back MRSP positive which she said would be resistant to the cefpodoxime and instructed me to stop it but he still cleared up (?), but he was also already on the combination of that plus prednisone and claritin for over a week at that point. She then prescribed Gentaspray which I started using immediatly but like I said, the areas were already clearing up.
I have requested numerous times for a biopsy because I feel so lost and want to know what these sores are so I can prevent instead of treat them. I also dont want to put him on antibiotics & prednisone every other month, I can tell these sores are painful and bother him, it breaks my heart. I still don't have an answer as to what is going on. These sore have since spread to his head, all the way down his spine and I found a few on his back legs. The are currently all in the early stages of inflammed hair follicles and just barely starting to loose hair. I called the vet again today and am waiting to hear back from her.
Has anyone heard of or dealt with anything that sounds like this?? I feel so distraught and terrible for my little guy. I plan to get a second opinion from another clinic as soon as I have a day off but man, am I dreading starting all over. Am I being out of line requesting a biopsy? I don't want to put him through that but I feel like that may be the only way to get an answer as to what this exactly is.
Do you have any suggestions for me??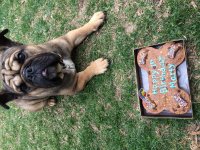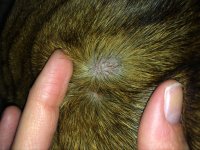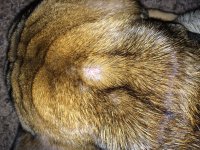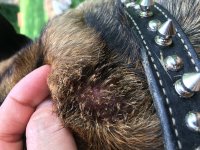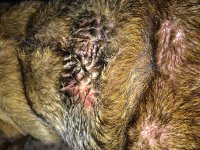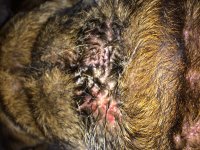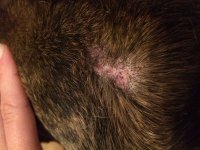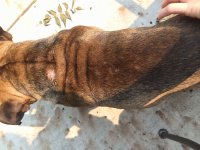 Sorry guys, new to the webpage and not sure how to rotate the pictures :/
These are just a couple pictures from the beginning stages of inflamed hair follicles to hair loss and the ulceration.
Like the said, recently the sores have spread all the way down his spine and to his face and legs too.
Last edited: