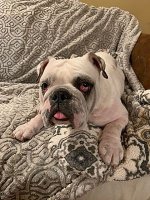 CEBR welcomes Blair to her new life after spending her first year in a puppymill. Blair is a petite little lady with the gentlest soul. She's estimated at about a year old, though most of the time she comes across as a more mature. She's very quiet most of the time, happy to snuggle and nap on the sofa, watching what's going on in the room with curiosity. She is still getting used to a newer, bigger world outside of the mill. It takes her a while to get used to new interior spaces- doorways being a challenge. Loud or sudden noises still really startle her. Once she's outside, however, she's a complete puppy. She loves to romp by herself or play and tumble with other dogs. Her ideal home would be with another dog or dogs-- she feels much more comfortable when they're around. Having dog friends will be key to her gaining confidence. She's perfect on a leash with other dogs she trusts--alone it's hard to get her to walk on a leash, but that will likely change as she comes out of her shell. She's progressing quite well with her potty training-- no accidents overnight, and few at all. She will accept a crate, but doesn't seem to need one. She's not destructive and content to nap on the sofa if we go out. Two to three stairs are fine, but a flight must seem scary to her. That could improve with time and now that her vision is unobstructed-- but her legs are really short. She's incredibly light at 33 lbs-- easy to carry anywhere, and doesn't mind being picked up. She takes treats so gently-- only licks them out of your hand. She enjoys both squeaky toys and chews. The funny thing is she'll often play with them at bedtime after the lights have gone out. She's just now recovering from cherry-eye surgery as the center field of her vision was extremely obstructed. Her new range of view should give her a big boost on her way to really coming out of her shell more. Maybe you're the family that is lucky enough to help her become her best dog-self?




​

Please view the adoption process and fill out an application at their website ---> ebullymatch.com

To view more available English Bulldogs from this rescue, click this link ---> Chicago English Bulldog Rescue

Please let them know you found them on English Bulldog News!

​

[SUB][SUP]
[/SUP][/SUB]
​