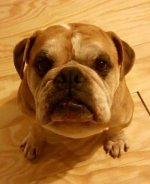 Intake Date: 1/12/15
Last Update: 2/11/15
Age: 6 years old
DOB: Unknown
Gender: Male, neutered
Weight: 49 pounds
Energy Level: Moderate, he can be very active and energetic with plenty of naps mixed in
Color & Markings: Tan & White
Good with other dogs: Yes - he wants to play with his foster's dogs, but he does not tolerate rough housing well and would be best with more laid back dogs.
Good with cats: Yes, he completely ignores them.
Good with kids: Unknown, but would probably do well with kids 12 years old and above who wouldn't irritate his arthritis by laying/stepping on him.
Object Aggression: He will steal/fight for food and needs to be kept away from others until everyone is done; He snaps up treats so hand feeding is not recommended, but he can catch them in the air like a pro.
Special Needs: Regular ear cleaning - he has swollen ears from chronic ear problems. He has a grade 1 luxating patella on the right, which doesn't bother him but makes him occasionally walk funny until it pops back in.
Medications: Glucosamine, and neo-predef powder for his ears (easiest way to treat them since he doesn't like the liquids
Crate Trained: Yes, he is in it when no one is home. He can be very vocal if he's crated and knows you are home
House Trained: Yes, but he is lazy about going out and has to be forced outside sometimes. He has never asked to go out, but seems to understand when we say 'outside'.
Physical Fence Required: No, he's happy to stick close to his people
Adoption donation: $250
View attachment 80123
Wanna Adopt?
Please view the adoption process and fill out an application at their website ---> buckeyebulldogrescue.org
To view more available English Bulldogs from this rescue, click this link ---> Buckeye Bulldog Rescue
Please let them know you found them on English Bulldog News!