I couldn't make this sh*t up if I tried!

Jul 21, 2010
7,219
728
Country

USA
Bulldog(s) Names

VEGAS and REBEL

After a situation presented itself, I felt we just had to "rescue" a 5 year old male bully. I knew the grandfather of the girl that had him. She is young and goes to school full time and works full time. Her grandfather has been stuck with Mr Wrinkles for about 2 months because the granddaughter's apartment would not allow dogs and she moved to another part of Florida.
Grandfather was begging me to come and get him as grandfather is wheel chair bound and almost 80. Ive been going back and fourth for a couple of weeks due to A LOT on my plate right now. But as a dear friend [MENTION=2014]JeannieCO[/MENTION] told me, all those problems will eventually go away.
I went this weekend to "meet" Mr Wrinkles. He is fed a diet of Purina dog chow. He stinks to high heaven has cyst between his toes, hot spot on his neck, bumps on top of his head. Both ears fire engine red. I could not leave the house without him.
I took Vegas for a meet and greet. He is so tiny compared to Vegas! He weighs about 50 and very short, actually reminds me of Baby O [MENTION=572]Libra926[/MENTION] I left the bag of Purina and already have him on Vegas's food, got him on Coconut oil, shaved the hot spot and treating it. Soaking his feet in Epson salt. He is a total sweet heart. He has bright blue eyes, which is weird, but neither blind or deaf..... So most of you all know I suck at taking pictures but I have a few to share.
This is Vegas wondering what in the world I got him in to! lol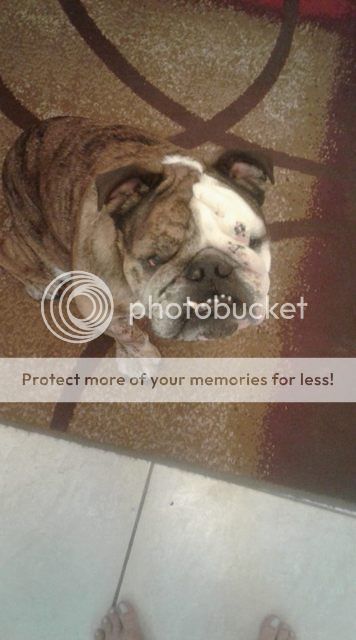 Mr Wrinkles (I hate his name, but I think he's to old to change it)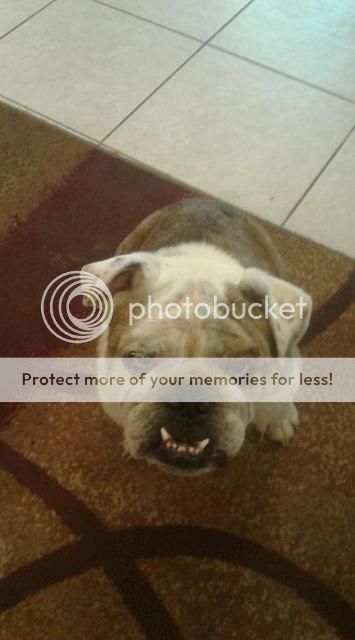 After trying about 50x I finally got a decent picture, and it's bad. lol