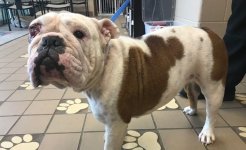 Please welcome Rachel to Lone Star Bulldog Club Rescue. This poor, sweet girl was found wandering the city and picked up by animal control who contacted our group. We think Rachel is about 2 years old. She needs entropion surgery on both eyes. Her left eye was not too bad and it cleaned up easily. Her right eye is twice its size and severely inflamed. You can easily see where an ulcer has perforated the eye. The course of treatment will be to sew the eyelids shut for several days to help the cornea heal without rupturing further. She does appear to still have some vision in that eye. Whether she can regain any more eyesight still needs to be determined. Other than her eyes, she appears to be in pretty good health. Rachel is calm and very sweet. Say some special prayers for this girl as she undergoes her eye surgeries and has everything else checked out.
8/2/17 Update: Today, vet did her entropion and sewed the eye shut in an effort to help in recover. From Dr. Larsen: "The injury is weeks old. See the vessels migrating over the puncture? This takes a few weeks to happen."
8/20/17 Update: Poor Rachel! Her eye infection was so severe that even with the special treatment, she had to have the eye removed this past week. Yet she is a real trooper. She is the happiest girl in the clinic. Her pain is gone and she is celebrating. She is the prettiest one-eyed Bulldog girl ever!
9/3/17 Update: Rachel joined us a week ago and what a sweetie she is. On her first day, the house was thoroughly inspected, taking it all in, meeting her foster siblings and finally settling down in the nearest dog bed. Rachel is only 2, but she is crate and house trained and seems older than that, but maybe its cause of what she has been through. But get her on the couch to play? Its on! Full puppy mode!
This beautiful girl is perfect in every way with the happiest little soul. Rachel would be a wonderful addition to families with a little older kids as she is young and thinks your fingers are chew toys!
9/17/17 Update: Rachel is finally on the mend after having a nasty respiratory infection and has her happy and playful pep back. She loves to zoom around, making laps around the backyard, smiling the whole time. Its no fun when you don't feel good!
Rachel is 2 years old and is wild as a March hare! She is 100% house trained, smart, loving and a great snuggler. Her ideal family would be bulldog savvy as she is pretty stubborn and needs to learn her indoor manners. Due to her activity, no small kids cause she would just bowl them over with her energy. As far as other dogs, she is getting along with the males in the home but has jealousy issues with the girl bulldogs. This is a pretty common thing, so she just needs to learn that the humans are boss. Rachel loves to go on walks and is still perfecting the art of leash training. Whomever adopts this little angel will be lucky indeed!
Wanna Adopt?
Please view the adoption process and fill out an application at their website ---> dfwbulldogrescue.org
To view more available English Bulldogs from this rescue, click this link ---> Lone Star
Please let them know you found them on English Bulldog News!