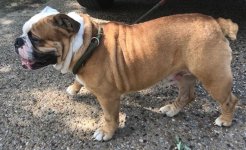 Colossus was a statue of the Greek titan-god of the sun Helios, erected in the city of Rhodes. The word has thus come to mean gigantic. My name is Colossus, I a 4 year old weighing in at 71 pounds and have joined rescue. They say I am gigantic and have the body of a god! My mom rescued me from a bad situation where I had a heat stroke living in the back yard. Life was going well, until she lost her job. She, her children and I all moved in with her parents, with other family members and other dogs. Let's just say, it was not the best place for a big beefy Bulldog like a Colossus. Mom thought and thought about what to do. She asked others for advice. She finally decided to contact this rescue group so they could find me the perfect home, where I have plenty of room and can live like as god.
Right now I am at the vet to get some work on my skin and one eye. I will also be neutered–how dare they do this to a god! But they say I must if I am going to live with you. After that I will regain my god-like appearance and be ready to come to your home and be treated as I deserve.
9/9/17 Update: I'm getting ready to meet my new family! Yep, I have left the clinic where each and every person loved me, brought me treats, brushed my beautiful fur, and told me "Colossus, your name matches you. You are much bigger than life size. You are kind of like an enormous size, and we are sure going to miss you around here!" But, I was ready to leave, to find my forever family, so the spoiling could continue. I have been so good with all the other things with fur. Not one of them has been afraid of me because of my size. And, I like my "super-size" because everyone stops and stares. They want to pet me, talk to me and feed me a snack. I am one snack-loving fool!
I am taking a course in manners. It's called "Manners 101 for a Bulldog Who Loves People A Little Too Much." You see, when I see a person, I have this desire to jump up, wrap my paws around their thigh, and hump. And really, I mean no harm. It's all about control, and after being neutered, I am hoping I lose that loving feeling. But, like all bad habits, this one is hard to break. I will do my best to learn to greet you with a handshake, and not a hump shake. My perfect family will be active because I love to walk, and will NOT have small kids that I might knock over. They will be kind and patient with me. If you are that family, send in an application.
9/27/17 Update: Colossus continues to stay at Country Dog Services boarding facility awaiting his foster.
Poor Colossus is itching like crazy lately! I think his allergies are like a lot of folks and pets this time of the year. He came with anti itching meds and we're going to up his dose. Good news is no more coughing and he's back in general population! His humping has also gotten much better. He's just so friendly. He is also finishing up an antibiotic for his skin, as well as one for his cough. We're giving him two medicated baths per week and an oatmeal one.
10/15/10 Update: Now, this is a story all about how
My life got flipped-turned upside down
I'd like to take a minute
Just sit right there
I'll tell you how I came into Rescue
With itchy skin & patIn the east Texas country I was born and raised
On a comfy couch where I spent most of my days
Chillin' out maxin' relaxin' all cool
Tearing tennis balls up, leaving nothing but drool
When some nasty allergies blew in who were up to no good
They started making trouble in my neighborhood
I had one bad reaction and my mom got scared
She said 'You're movin in with rescue
They'll take better care of you there'
I barked for a cab and when it came near
The license plate said rescue and it had bully stickers on the mirror
If anything I could say that this cab was rare
But I thought 'Itchy life, forget it' — 'Take me home to skin care'!
I pulled up to my foster house about 7 or 8
And I yelled to the cabbie 'Thanks for the ride, lick ya later'
I looked at my kingdom
I was finally there
To sit on my throne as Colossus, the cuddle bear.
10/22/17 Update: Sunday Funday involved a Great Pumpkin Adventure for Colossus! He had a blast exploring the maze of hay and pumpkins, and found the perfect spot to plant his bum while people passed by and offered love and affection for 'such a cute boy.'Mission accomplished!
11/21/17 Update: Colossus took a step back from the rescue spotlight over the last few weeks because he has been busy working very hard on his manners. Now he's back to center stage and foster mom & dad are so PROUD of his progress! After a few incidents where Colossus decided the word 'No' didn't apply to him, foster mom called in reinforcements and he's been learning and improving ever since.
Part of this training journey for Colossus included diving deeper into his life before rescue, and unfortunately we discovered that he'd had several homes, including some where discipline meant pain. It became a survival skill to develop a few warning behaviors to let bad people know that he was not willing to take anymore. Thankfully he is a VERY smart boy, and through POSITIVE reinforcement, patience, and LOTS of love he is learning that correction does not mean pain, and the word 'No' is not a threat. These moments are the exception, not the norm, but when they happen you can tell Colossus feels unsure of himself and this can be a trigger for anxiety. That is why finding a family that will emphasize building him up vs. forcing him to assimilate and 'fall into line' will be critical. Colossus is a wonderful pup with an amazingly fun and playful personality, but he needs a family who is willing put in a little extra effort to help him become his 'best self' through a few simple training techniques.
Colossus knows: sit, stay, come, down, will wait to be told to eat, and can prance circles around most of his lazy bully counterparts. He's the cutest toy hoarder you'll ever meet, and LOVES to play with other pups (& even kitties). He is even great at playing the role of Big Brother to his new foster sister, Gypsy Blue. He will wrestle and play with her till he collapses from exhaustion, and then demonstrates the patience of a saint as she persists with puppy antics while he's trying to catch some sleep!
Colossus has a kind and gentle soul, and when he curls up in your lap come snuggle time your heart will swell to 10 times its size This handsome boy deserves to have only the best in life from here forward. Are you willing to put forth the effort to teach him the 'no trauma, no drama' way? Can you handle 70 lbs of overgrown teddy-bear with sensitive skin and soul-piercing eyes? Then stop scrolling and start typing up your adoption application today!
Wanna Adopt?
Please view the adoption process and fill out an application at their website ---> dfwbulldogrescue.org
To view more available English Bulldogs from this rescue, click this link ---> Lone Star
Please let them know you found them on English Bulldog News!