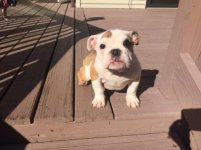 Meet this beautiful little girl, Olive. She absolutely adores being around people. She will sit in your lap and roll around. Olive loves to be pet and rubbed behind the ears. She will give you kisses while you pet her. Her soft fur feels like cashmere and her markings are adorable. What a beauty!
Olive is estimated to be 11-13 weeks old. The first part of her little life is somewhat of a mystery. She was discovered after being abandoned in a cardboard box, together with another pup. A good Samaritan brought her to the Anti Cruelty Society where volunteers contacted IEBR. Olive has now been in her temporary foster home for one week and this is where she has responded so well to love and adoration.
Olive is very mobile, she walks and runs around and loves to explore the garden rolling around in the grass and chasing leaves. Olive can climb up two steps and navigate furniture, toys or any obstacle in front of her. She will run into your arms if you call her name! She does have the tendency to have her back legs collapse when she is standing idle, hinting at some mobility functional shortfalls.
Olive loves squeaky toys. She knows how to bite them repeatedly to make the sound continue non-stop. She quickly drops one toy to run to the next. Rope toys are a must for this chewing bulldog pup. She loves to chew so when she comes for your shoes (and your feet!) you have to distract her with a toy. She drops to her blankets and bed when she is tired, napping regularly and settling well through the night.
Olive eats three small meals a day of puppy food. We add a bit of Organic pumpkin to keep her stools regular. She gobbles all her food quickly and carries the dish around when she is finished.
Olive has Spina Bifida and is incontinent she does wear diapers.
Olive is truly a love muffin that is going to make some lucky family very happy.
If you are interested in Olive, please visit our website:
Illinois English Bulldog Rescue
, and read through our adoption criteria to see if you meet our requirements. If you do, please fill out an application to adopt.
Olive's adoption fee is: $650.00
HOW TO ADOPT:
Please view the adoption process and fill out an application at their website ---> ilenglishbulldogrescue.org
To view more available English Bulldogs from this rescue, click this link ---> Illinois English Bulldog Rescue
Please let them know you found them on English Bulldog News!