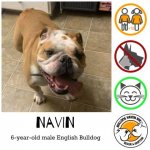 Navin is an energetic, playful and hilariously stubborn 6 yr old boy. He is very expressive, when he does not feel like going for a long walk he will let you know! Navin loves stuffed toys and can toss them in the air for himself to catch. He also adores his giant Minnie Mouse doll. He is not big into sharing but it could be because he is still figuring out his boundaries and adjusting to a new place. He wasn't the biggest fan of the bath but was cooperative so now he smells good. Like many dogs, Navin *HATES* the vacuum so he'll need to not be in the room when using it.


View attachment 80130
Wanna Adopt?
Please view the adoption process and fill out an application at their website ---> bulldoghavennw.org
To view more available English Bulldogs from this rescue, click this link ---> Bulldog Haven
Please let them know you found them on English Bulldog News!