New member
Community Veteran
Mar 25, 2011
1,251
150
Bulldog(s) Names

Duke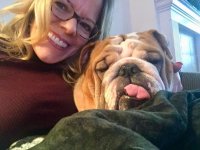 Hi Everyone!
Well tonight is the night

. our first Cytopoint shot! Poor Oliver ( he is almost 4) has had HORRIBLE allergies. he is allergic to .. well lets just say everything.

Last year after a night of blood all over from him rubbing his eyes and skin so bad and being on Apoquel for a while we put him on a low dose steroid. I tried many times to wean and as soon as day two came , blood everywhere .
I was at my wits end. THEN two months ago he got terrible hot spots ( lesions ) which I knew after researching was from his immune system being so suppressed.
I was in a panic, we have spent thousands on so many things and didn't know what to do. So I called my best bud English bulldog friend [MENTION=2894]2BullyMama[/MENTION] and she suggested RAW.
LONGGGGG story short. he is almost a month OFF steroids, tonight getting the cytopoint shot , his hair is growing back ( thanks to Nu Stock- stuff is a miracle cream! ) and good nutrition. I also supplement him with Tumeric and last night added vitamin D. We love our Oliver so much. its exhausting, expensive as all heck and so frustrating but I am glad for his progress so far and will update how he does on shot. I want him off the Apoquel now.
Wish us luck!!!