Moderator

Community Veteran
Dec 9, 2016
5,549
1,347
Country

United States
Bulldog(s) Names

King Louie, Jax (French Bulldog), Ella Mae and Darla Rae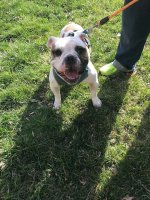 LUKE
Status: Available
Age: 3
Gender: Male
Location: Omaha, NE
Reason given up for adoption: Owner surrender to shelter
Temperament: Loving, playful pup
Health Condition: Excellent
Placement Limitations: Dog specific
Special Needs: No
Comments:
Luke is estimated to be 3 years old and came to us by way of a shelter where he just wasn't enjoying life so much. He'll be on a hold until we can learn more about what he needs. Initial info from his foster notes that Luke is not toy or food aggressive with us. He is a complete puppy spaz where he is clumsy, curious, and doesn't sit still. We wonder if he was just to much for the other dog he lived with? He thinks jumping is a fun game, likes tug o war and fetch. He is kennel trained for the most part, he is a mess on a leash but that's because everyone is his best friend including leaves, squirrels and the sun. If you hold his bowl of food and tell him to sit he does. He loves playing with his food bowl. In the car he was chasing the sun glare and ran himself straight into the window.
5/22/2018--Luke is still working to learn his place in the household. He hasn't quite learned that his foster sister doesn't always want to play (she can get a little grumpy about it). Luke also doesn't always appreciate how big he is compared to the little pups in surrounding yards--he is fully puppy mentality! He does have occasional accidents but has been doing well with potty training. Like all young dogs, Luke will need continued guidance on appropriate behavior but has the makings of an amazing family member! Due to Luke coming in with no manners, resident dogs will need to introduced and evaluated on a case by case basis. He likes kids but would thrive in a home with school aged kiddos or older--especially those who will help him burn energy!
6/2/18–from Luke's foster:
I would say no on young children he can knock over but otherwise children should be fine. Other dogs will be where he needs an intro and definite dedication to training. Cats he has only seen them through the door of a friends home and he acted like chasing them would be an awesome idea through the door🤦🏽*♀️ He does experience some clear signs of separation anxiety including chewing on our baby gate and scratching the pain off the door. This is on top of the whining and clanging his food bowl across the bars of the baby gate. He is soothing himself much faster now so there is less destruction but a new routine with a new family will probably increase it. He does chew on bones and plays with toys. He has chewed on inappropriate things when he wasn't being given the level of attention he felt he needed (RIP Xbox controller lol) he does reach up into counters and the table of he feels there is food available for him. All things that are being worked on and have improved but could reoccur once being adopted. Basically puppy status level 10.5 😂 on a 10 scale!
Luke is located in Omaha and his adoption fee is set at $550.
Wanna Adopt?
Please view the adoption process and fill out an application at their website ---> GLBR
To view more available English Bulldogs from this rescue, click this link ---> Good Life Bulldog Rescue
Please let them know you found them on English Bulldog News!