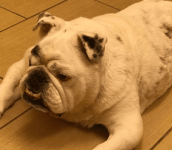 Diesel is Adoption Ready
Intake type: Shelter Pull
Intake date: 07/05/2017
Age: 9 years
Gender: Male
Weight: 52 lbs
Energy level: Medium
Good with other dogs: Yes
Good with cats: Unknown
Good with kids: Yes
Object aggression: None noted
Special needs: Arthritis
Medications: Mobility supplements, flea/tick, heartworm
Crate trained: Yes
House trained: Yes
Adoption fee: $350
Sweet Diesel originally came to IBR in mid-2016 from a loving family who had to move overseas for military service and they could not take Diesel and his bonded fur sibling, Maggie. Diesel and Maggie were adopted to what we at IBR thought was another loving forever home in November 2016. The family passed our diligent screening process without any red or even yellow flags at all. So, you can imagine our shock and horror when the family contacted us in June 2017 stating that they needed to re-surrender both Diesel and Maggie and then, after immediately finding an excellent foster home and arranging transport, we discovered that this sweet pair had been seriously neglected for the 6 months they were in their adoptive home. All of us at IBR were further devastated when Maggie died during transport as a result of her neglect.
Despite this horrific scenario which cut all of us at IBR to the core, we are happy that Diesel is back with us and has now received a clean bill of health thanks to his amazing foster family! When he came back, he had infected ears, infected eyes, skin infections, open sores, fur stained in urine, etc. etc. etc. But, he is all better now and we could not be happier for him.
All of our dogs deserve nothing but the best in their forever homes but, obviously, Diesel deserves the best plus everything. Despite being 9 years old, Diesel still has a ton of life left in him. He has the sweetest disposition ever and loves all people and dogs. He is a chill guy who just wants to be near people … and not miss a meal! He will make the perfect addition to any home.
HOW TO ADOPT:
Please view the adoption process and fill out an application at their website ---> indianabulldogrescue.com
To view more available English Bulldogs from this rescue, click this link ---> Indiana Bulldog Rescue
Please let them know you found them on English Bulldog News!