Moderator

Community Veteran
Dec 9, 2016
5,386
1,012
Country

United States
Bulldog(s) Names

King Louie, Jax (French Bulldog), Ella Mae and Darla Rae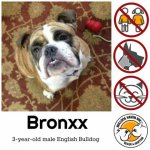 English Bulldog. Age 3. DOB 8-2-15
Bronxx is a three year old stunningly handsome, sweet, and happy boy. His family is just getting to know him and his quirks - such as dislike of bananas. He wants to be with people and is a 60 pound lap dog that loves a good belly rub.
He is a very gentle boy and not a hand biter when playing with balls and toys. He may knock you over by accident when playing outside or going through doorways/stairs just because he's big, in a hurry and excited. He needs to be in a home without little children or other animals because he doesn't like to share anything unless it's with an adult human. Bronxx is a bit on the timid side when facing new "dangers" like the ceiling fan or beeping coffee pot but is in a brand new place. He goes to bed at night in his kennel very quietly - with maybe a minute or two of fussing. His door has been open and he will wander in on his own for a nap. He has not had any indoor accidents or chewed up anything.
Since he is in his teenage years, he will need an owner with time and patience to help train him and show him how much fun life is when you are well mannered. He can sit but needs help with other commands and walking on a leash without pulling. His foster family has been amazed at how quickly he learns in the few days he has been with them. He mastered the doggy door the first day. He was quite the humper, especially if you sat on the floor with him, but with the help of a spray bottle and the command "off" he caught on right away and has done great.
Overall, Bronxx is young, strong, and in excellent health with a really good airway. He had a bad tail pocket when he came in to BHNW's care and had it amputated and he's so much more comfortable now.
Wanna Adopt?
Please view the adoption process and fill out an application at their website ---> bulldoghavennw.org
To view more available English Bulldogs from this rescue, click this link ---> Bulldog Haven
Please let them know you found them on English Bulldog News!