Moderator

Jun 25, 2013
3,292
301
Country

United States
Bulldog(s) Names

Ruthie(died 11/27/18) Brutus & Hazel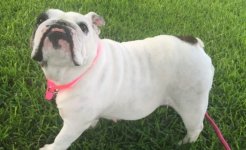 Please welcome Mrs. Periwinkle to Rescue. She is cuteness in overload! Stay tuned for more information on this love bug.
6/13/16 Update: Hey it's me , Miss Periwinkle!! You might remember seeing me, I was once a show girl, in a show girl world and I was almost famous! I changed my name when I joined rescue because being famous has it's problems! Everyone wanted to touch, look at and twirl me around and of all things people were always taking my picture. Look here, look their, look at me, that is all I heard. I often let the compliments go to my head, as any beautiful lady should. But I must agree, I am quite the looker! I have had a few litters of beautiful babies and I have had my share of men in my life, but I have taken care of that problem also. I am now ready for the couch, the car, the bbq's and the fun. I am potty trained, crate trained, and even "show be your best side trained. I can do it all. But most of all I have retired and I just wanna be your best friend, in the chair kinda gal. I prefer no camera's . awards or ribbons I just prefer a family to dress me up in ribbons and bows and push me down the road. My adoption fee is $500.00. I am spayed, current on vaccinations and heart worm medication!
6/20/16 Update: Periwinkle is next in line to be spayed and find her family. Not so much a fan of the female Bulldogs, but she LOVES the men! Periwinkle keeps all the men's faces clean and you will often find her sitting on the bed with them. Periwinkle is a dominant, tiny Bulldog who loves people, kids and male Bulldogs.
6/27/16 Update: Foster girl Periwinkle was spayed on Friday and is now resting and recuperating at the vet clinic. Thanks for your good, healing thoughts for her!
Wanna Adopt?
Please view the adoption process and fill out an application at their website ---> dfwbulldogrescue.org
To view more available English Bulldogs from this rescue, click this link ---> Lone Star
Please let them know you found them on English Bulldog News!