Bully lov'in wonder from down under

Mar 25, 2012
6,731
420
Country

Australia
Bulldog(s) Names

Ftse
Leroy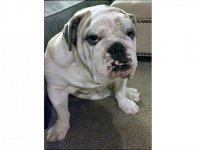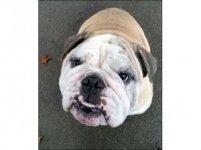 Leroy is a sweet 8 year old bulldog in need of a forever home. If you like dogs with their own unique personality, you'll absolutely love Leroy. Among his more interesting traits, he enjoys playing with (destroying) paper shopping bags, basking in sunbeams and sharing bananas. Of his more hilarious behaviors, he is suspicious of measuring tapes when they're extended and makes it a point to let them who's boss. Your measurements will always be perfect with Leroy on duty! He typically doesn't bark either, instead he has a garbled grunt-groan-moan. I've never heard a dying seal but I imagine Leroy has.
Leroy is great with other animals. So he can be placed with a spayed female. He tends to get a little overly excited after a few minutes of play and his underbite can be unintentionally harsh so older children are best around him.
Leroy spends a good portion of his day napping on his blanket or the tightest spot he can squeeze himself into. He is extremely social and often wants to be wherever his family is. He's looking for a loving forever home with a family that appreciates his bulldog tendencies and needs. He does have chronic skin issues and is being treated with medication and a good quality diet. These things will need to be kept up on long term. A single story home would be best or one with minimal stairs.
-norcal-jpg
Update: I've been ADOPTED!
To view more available English Bulldogs from this rescue, click this link ---> NorCal Bulldog Rescue
Please let them know you found them on English Bulldog News!