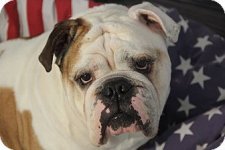 I'm about 6 years old and a big ol lover! I'm a healthy 87 pounds, so yea I'm a big guy! I'm not overweight though, I'm just big boned (really I am!) . I get along great with everyone - big dogs, little dogs, senior dogs, puppies, cats, and even birds…yea I like everyone! I like hanging outside when the weather is nice. I do like tough toys, especially bones to chew on. I also love love love car rides. It's so much fun! My foster home says I need to work a little bit on loose-leash walking still but otherwise, I'm a pretty good guy. I can sit, shake, and I don't beg. Oh and now that I'm neutered, I don't hump or mark anymore either…apparently that's a super good thing cuz everyone was really excited when I stopped that. The only time I bark is if I'm babygated away from everyone else… I just don't want to miss out on any fun! If I'm out and about with my family, I'm happy. My foster family says my bark doesn't match my body though and they laugh at me when I bark. It's apparently super quiet and squeaky for such a big guy…so you probably shouldn't count on me scaring anyone off with my bark. What can I say, I'm a lover, not a fighter. I don't bark at all when left alone during the day. I like to spend my day dreaming on the couch. My foster home as cameras throughout the house so they just watch me roam from one napping spot to the next all day (I'm pretty sure they're obsessed with me obviously). My two favorite spots to nap are the couch and a rug/blanket on the floor. I'm a simple guy with simple needs. A couch and a snack and I'm happy.
I seem perfect huh? I know right? I am. So why was I surrendered? Well, me and my dad were best pals, but times were pretty tough for him so I was taken to the shelter. I also had this big lump on my foot. It was getting bigger and bigger and my dad just couldn't afford to give me the treatment I needed. It was pretty big and painful when I walked (hence, why my foster family hasn't pushed me to work on loose leash walking since I've been here- had to take it easy on the foot and all). IEBR said they could help me feel better, so I went to a foster home to get all fixed up. With a little love, some good food, and a roof over my head I've come along way. My skin, ear, and tail infections are all cleared up from eating good quality grain free food. I actually don't have too many wrinkles to clean for a bulldog. I do need some help wiping "back there" after I potty and my tail pocket needs to be cleaned with a baby wipe every couple days. Pretty typical for a bulldog and not a big deal really if you ask me.
I was neutered in April and had the mass removed from my foot. They sent it off to be biopsied, and unfortunately the doctor said it did show cancer cells on the pathology report. They removed my whole toe though, and the doctor says he's confident they got it all! I hope so, because now that I'm all healed up, I just want to enjoy life with my new forever family! Could it be you?
If you are interested in Hoss, please visit our website:
Illinois English Bulldog Rescue
, and read through our adoption criteria to see if you meet our requirements. If you do, please fill out an application to adopt.
Hoss' adoption fee is: $500
HOW TO ADOPT:
Please view the adoption process and fill out an application at their website ---> ilenglishbulldogrescue.org
To view more available English Bulldogs from this rescue, click this link ---> Illinois English Bulldog Rescue
Please let them know you found them on English Bulldog News!