Well-known member
Community Veteran
Nov 16, 2012
1,049
105
Country

USA
Bulldog(s) Names

Jackson, Bogey (granddog) Ruger (granddog)
I have been MIA for awhile. To refresh my story, we have had a terrible time with Jackson lunging at loud trucks, motorcycles, diesel engines, etc.

He was almost not controllable. Thanks to the experts here, I was given the advice to get a correcting harness that goes up around his jowls. That and high value treats was a lifesaver! After a few weeks, Jackson became much more manageable with the use of both. I even bragged about his progress here.

The experts were impressed, but I do believe [MENTION=15310]helsonwheels[/MENTION] said " don't trust him".
Well, I was in a hurry one day, did not put the correcting harness on, just his regular one. I was taking him out for a "quick pee" and right back in. Lo and behold as I got to the end of the driveway, a cement truck came around the corner. Jackson started to lunge, I did not trust the harness( stupid move on my part)

and bent down to grab the handle that is on the back of his harness- he lunged again and he took me down. I tried to brace my fall on the pavement so not to hit my head, and I landed sideways and heard ( and felt) the snap of my rib. I did manage to hang on to Jackson ( I don't know how) but I was hurting! Yes, fractured rib. He now does not go out AT ALL without that second correction harness. He hates it, but it is too bad!
It truly makes him completely at my mercy and HIS safety!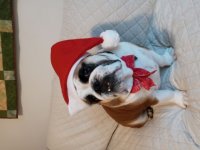 I am healing well and will never trust this little devil again!! Get a bulldog they said...... On a happier note, Jackson's brother Ruger and "Uncle Bogey" are coming for a sleepover tonight! I must be N-U-T-S!!! Will post Christmas pics soon!!