So yes my little man was on the plane! He is settling in nicely. Driving my other dogs crazy because he wants to play. They are being good with him so far. I have not had a puppy in so long and I had forgotten how much puppy nipping hurts! My goodness his teeth are like razors. he gets pretty aggressive so i try to redirect and give him a toy. But he catches my toes periodically, he even bit my lip! That what I get for kissing his nose and he thought I wanted i play!!!
He is doing pretty well in his crate and even cries to go potty. He has had a few pee accidents at night but has not pooped in the crate. Thank goodness. Potty training is going ok. Although the accidents he has had have been my own fault for not keeping the eagle eye on him.
I currently have him on avoderm and he seems to be doing well, he had diarrhea when he got here and within days of switching his stool began to get harder. Pretty amazing. I do have a question about feeding. The breeder had him on eukanuba and the guidelines said 2 1/2 cups a day which I broke up into 3 feedings. The avoderm says 1/3 - 1 cup that seems like so little. Do they mean that much 2-3 times a day?
So now the big issue!!! We cant decide on a name! I even started a poll on Facebook.
The top choices are Hurley, Watson, Sherman and Hank. So far Hurley and Watson are tied with the most votes....LOL! Cannot believe how hard it is to pick a name!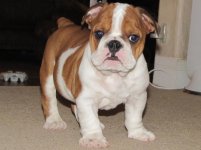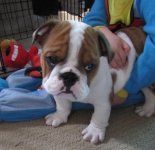 Last edited: