Owner/Administrator

Staff member
Community Veteran
Jan 28, 2010
24,755
1,242
Country

USA
Bulldog(s) Names

The Home of the Desert Sky Pack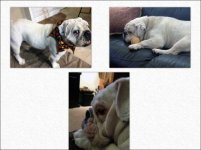 Name: Chester
Age: 8 yrs on 10/31
Gender: Male Neutered
Location: Sacramento area
Reason given up for adoption: Downsized Home…
Temperament: Sweet, but needs to be only pet. Sleeps a lot
Health: Excellent.
Placement Limitations: Northern Cal Only
Special needs: none
Comments:
Chester is an 8 yr old mature gentlemen who is in need of a new forever home. Chester is a sweet & playful companion. He loves attention and will roll over and let you rub his tummy. He really enjoys napping, a favorite pastime of his. Chester is jealous of other pets and likes to be the king of his castle.
He is potty trained and listens well. He is a very sweet boy, he just needs to be in a home that has no other pets.
Please help us find him a better home situation. Chester is current on his vaccines.
Chester is a courtesy posting, he is with his owners until a home is found for him.
Update: I've been ADOPTED!
To view more available English Bulldogs from this rescue, click this link ---> NorCal Bulldog Rescue
Please let them know you found them on English Bulldog News!