Owner/Administrator

Staff member
Community Veteran
Jan 28, 2010
24,755
1,242
Country

USA
Bulldog(s) Names

The Home of the Desert Sky Pack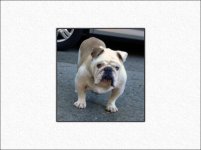 Name: Wilbur
Age: 5
Gender: Male
Location: SF Peninsula, CA
Reason given up for adoption: shelter stray
Temperament: Sweet, lower energy
Health Condition: Good now
Placement Limitations:
Northern California only, no kids under 8 years, could be placed with docile spayed socialized female.
Special Needs: Yes
Comments:
Wilbur was found wandering the streets in SF, infested with fleas, in terrible medical condition. He was emaciated weighing only 41 lbs, had large bilateral cherry eyes which had likely been causing him serious vision problems for years. He was also in desperate need of surgery to correct his elongated soft palate. He was housed and treated at the shelter for one month prior to coming into rescue. He was neutered, palate correction done, cherry eyes and entropion corrected. His eyes still have some healing to do, but he is well on his way to an excellent recovery. He will continue to need daily drops for dry eye which will likely be a residual condition following years of neglect.
He has now gained almost 15 pounds after 2 months in rescue and is now ready to start looking for his new home. His foster mom describes him as a character who will do anything for a treat, loves his bed, doesn't ask for much, can be a bit pushy to get the attention he wants (in typical bulldog fashion), enjoys attention and petting, and LOVES his meals.
Despite his many medical issues and 3 months of various treatments and vet visits he has always endured with a sweet temperament and has never shown any irritation with those trying to help him. He will need consistent reinforcement of his housebreaking and some limit setting when he wants attention.
Update: No longer available!
To view more available English Bulldogs from this rescue, click this link ---> NorCal Bulldog Rescue
Please let them know you found them on English Bulldog News!