Moderator

Community Veteran
Dec 9, 2016
5,199
576
Country

United States
Bulldog(s) Names

King Louie, Jax (French Bulldog) and Ella Mae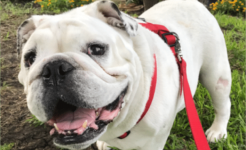 Age: 8 Yrs. Old
Gender: Male
Adoption Fee: $350.00
Special Needs: No
Tolerant of children
Tolerant of dogs
Tolerant of cats
Good morning everyone, it's me Brutus joining rescue. Most everyone calls me Bully and that's the name I heard the most. Yesterday was bitter sweet for me. Yesterday was my birthday and I turned 8 years old. Yesterday I left the only home I had ever known. And my home was amazing. But, there were some changes and I had no choice. So I packed my bed and food and I am looking for another fabulous family. 5 years ago my Dad died and within the last few months my Mom has fallen twice and now she is in a rehabilitation hospital. After rehab she is moving into a Assisted Living Facility and her new home said No Bully's Allowed! Yesterday my Mom's caretaker drove me to the rehab and I told my Mom goodbye and she hugged me and told me she loved me and this was not supposed to happen, But it did and I told her I would be alright. I am a bit spoiled and I do come with my own set of requirements in choosing a new family. So let me tell you what I am used to.
Monday is manicure day; Tuesday is take me for a ride in the car day; Wednesday is Whataburger day; Thursday is spa day; Friday is Family day–cooking on the grill day; Saturday is wash my bed day and ice cream day; Sunday is watch church on the TV day and eat a steak day.
Well folks that's all I can think of to tell you about me except you will absolutely love me !!!
6/24/18 Update: I have been at Foster Mom's house for almost a week and I have to say I like it! The pantry and kitchen are my favorite spots to hang out. They have some good "noms" that get passed out at different times of the day, and my ears perk up when anyone walks in there. There is also this mini human that lives here and we have become BFFs so far. He has the best "noms," but don't tell Foster Mom! I love following my people from room-to-room to make sure there is nothing I need to help with. I like to help, you see! But sometimes, I do not like following them into my room because there is this thing called "my kennel." I only have to go in there if Foster Mom is gone a long time. Other than that, I am liking everything about this new place. I also have some foster sibilings that live here, and I really like them too. I am pretty much an easy going guy who loves anybody and anything. If you think you need a handsome couch potato who like snacks and love, I am your guy!
7/8/18 Update: We have had a great week with Brutus, affectionately known as Bru Bru and Brubus (per the mini human). Our favorite part of the day is coming home after work and school and seeing him greet us at the door. He has the best welcome-home dance and face. He loves to sit on the couch and chew his bone, and sleep, and really anything that lets him be close to you. He is the best love bug, and wants to cuddle. We are working on personal space. He sometimes gets a little rambunctious and will jump and gnaw on you. Nothing aggressive, just being a crazy, fun-loving guy. He would do best with older kids, as he gets a little too crazy for little kiddos. He is house trained, loves other dogs, and loves his people.
Wanna Adopt?
Please view the adoption process and fill out an application at their website ---> dfwbulldogrescue.org
To view more available English Bulldogs from this rescue, click this link ---> Lone Star
Please let them know you found them on English Bulldog News!