May 9, 2017
31
1
Country

United States
Bulldog(s) Names

Dinah
New Bulldog mama here...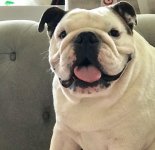 I mean, really, look at her!!! MUAH-- LOVE YOU SO MUCH.
Sorry -- back!
questions:
1)What's up with bulldog chin acne? It always comes back at the same spot, and if anyone has any recommendations? (Yes I've been to the vet, and they gave us fancy shampoo)
2)Is it normal for a Bulldog to act out in spurts? playing one minute and then asleep and snoring the next?
3) Bulldog throw up: Should I panic, or does this happen every now and then?
4) She HATES to walk, even if it means to go out and potty (We live in a building) so walking to get outside is a must. Any tips?
Thank you All in advance.
XOXO