Moderator

Jun 25, 2013
3,292
301
Country

United States
Bulldog(s) Names

Ruthie(died 11/27/18) Brutus & Hazel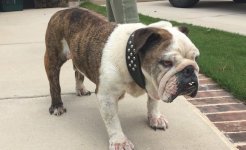 Meet 9-year-old, 45 pound Tank. His owners had him since a puppy. They sold their house sooner than expected and had to move out quickly. The only thing they could find is a third floor apartment, and they didn't think that would be good for Tank. Stay tuned for more details about this hunk. Tank is now up to date on all his shots and tested heart worm negative.
5/17/16 Update: Tank has spent a few days at the vet for observation and treatment. He has a form of dermititis that has caused his belly to be swollen, red and painful. He has been on antibiotic for a few days and looks and feels so much better. He is about ready to go to his foster home.
6/18/16 Update from his new foster mom: Tank is so itchy. Poor guy. I've slowly been putting some Desitin on his under side. He must have been a big boy at one time because he looks a lot like the females that have had babies. You can feel his spine and ribs when you go to pet him- so sad. But he seems to be a happy boy, and hasn't lost his spunk with the ladies, much to the chagrin of my girl. No worries though… she's told him what the boundaries are!
Wanna Adopt?
Please view the adoption process and fill out an application at their website ---> dfwbulldogrescue.org
To view more available English Bulldogs from this rescue, click this link ---> Lone Star
Please let them know you found them on English Bulldog News!