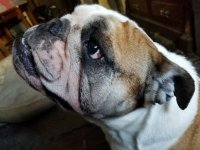 Hi everyone, my name is Simon and I am about 5/ 6 yrs old. One of the IEBR volunteers found me wandering the streets and took me home. IEBR searched and searched for my family but couldn't find them but it is ok because I have been getting lots of love in my foster home. I would really like a family of my own. I am very fussy about my human friends so to be safe, let's just say no kids. I guess you could say that I am fussy about my grown-up friends too because I was adopted once and got returned because I was acting somewhat less than a gentleman. We didn't click and my foster mom tells me not to be sad about it because it happens sometimes.
I get along pretty well with my foster siblings, unless the go by my tuggy rings. Tuggy rings are the BESTEST things in the world, other than food of course. I like to jump up and give a happy dance to greet you when you come home. I am working on "OFF" because foster mom says that it is rude when I don't want to get down, but I just want to show you that I love you, so I can't help it.
I am pretty energetic for a bulldog. One of my favorite games is pouncing shadows. I will stare at the ground and wait for you to make shadows for me to chase. You coul be my shadow maker?
If you are interested in Simon, please visit our website: Illinois English Bulldog Rescue, and read through our adoption criteria to see if you meet our requirements. If you do, please fill out an application to adopt.
Simon's adoption fee is: $600
​
HOW TO ADOPT:

Please view the adoption process and fill out an application at their website ---> ilenglishbulldogrescue.org
To view more available English Bulldogs from this rescue, click this link ---> Illinois English Bulldog Rescue
Please let them know you found them on English Bulldog News!
​