Greetings to all.
I have a medical issue to run by the group.
Maggie, my four-year-old English, had surgery on her leg five weeks ago. For the surgery, she was shaved from flank to foot.
Now, as you can see from the pic, the hair on her leg is growing back nicely, but the hair on her hip isn't really growing back at all. After five weeks, it still looks freshly shaved.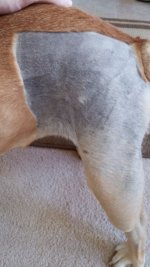 The doc mentioned something about bulldog alopecia. But from the pics I saw online, it just doesn't look the same. She has never shown signs of alopecia before, and the hair on the opposite side is just as thick as it has always been.
The doc also mentioned a possibility of hypothyroidism. But she said other symptoms of that are lethargy and weight gain - and Maggie isn't showing signs of either of those.
Does anyone have any ideas why her hair isn't growing back?